Best Boat Electronics on The Market
A Guide to Essential Marine Electronics
Most modern-powered yachts come with an array of boat electronics, but you may wish to add some extras or have an older boat that needs upgrading. 
This guide will offer a list of the best marine electronics you should consider adding to your slice of on-the-water heaven. 
Read on to learn what's available, how to get started with boat electronics and how to maintain them so they last a long time.
Tips on Getting Started with Boat Electronics
Boat electronics provide essential functions, like helping you navigate, maintaining the lines of communication, and providing a single operational hub for all your boat's electronic components. However, like the other parts of a ship, they must be chosen carefully and appropriately maintained. 
Before you purchase any new marine electronics for your yacht, here are 5 things to consider:
What type of boat do you have?
Not every boat requires every type of gadget. When choosing boat electronics, you'll need to consider what kind of boat you own. Is it a cruising boat, a fishing boat or a sailing boat? For example, a fish locator won't be your top priority if you don't own a fishing boat and don't go fishing often.
What are your needs?
You'll have to consider your needs when choosing which electronics to outfit your boat with.
A chart plotter is excellent to have onboard if you regularly travel away from the shore. If you don't travel far from shore, but fishing is a favourite hobby, you might consider getting a fish locator. 
Do you want to upgrade your system?
Like other types of technology, marine electronics are constantly evolving, so it is never long before the next generation of gadgets comes along. If you want to upgrade a component of your system, choosing one with NMEA 2000 networking protocol will allow you the convenience of plug-and-play capability.
How do you want to enter data into the system?
You should think ahead. A touchpad will be fine if you're going somewhere warm enough to rule out the need for gloves. On the other hand, if you are likely to be wearing gloves, a keyboard will work best since touchpads don't always register input unless the fingers are bare. 
Where exactly do you want to go?
Navigation devices often come with maps for inland, coastal and international waters, with the ability to add other maps to the collection. You can also buy combo gadgets that feature chart plotters and fish locators.
Top 5 Must-Have Boat Electronics
While some boat electronics are optional, like a marine stereo that allows boaters to have audio while out on the water, others are must-haves for all boaters.
Here is a quick look at some of the essential best boat electronics to have on your yacht:
VHF radio. A VHF radio is an essential electronic tool that allows you to maintain lines of communication with the authorities in an emergency. Since they don't rely on cell reception and can handle getting wet, VHF radios are reliable and easy to use.
Multifunction Displays.

Also known as "MFDs," modern versions look and operate like smartphones. In boats that have an array of onboard electronics, an MFD acts as a hub that controls all of it.

GPS systems.

Just as GPS navigation has made getting around on land easy, it can do the same for getting around on the water. Called either a GPS or a "chart plotter," this type of electronic tool can act alone, be added to your MFD or be accessed through an app on your tablet or smartphone.

Fish locators.

MFDs have a built-in fish locator, but you can buy them individually. Fish locators allow you to locate fish more quickly through sonar. Depth sounders work the same way.

Engine Monitors.

Engine monitors analyze the engine's components for functionality. An MFD can include this electronic gadget, but it can also work individually as preferred. 
Cleaning and Winterizing Your Boat Electronics
Marine electronics are handy, but you must adequately maintain these tools like any other equipment on your boat. Your electronics will need to be cleaned regularly and winterized before the cold season – or before long periods of disuse – to work at their best.
How to clean your gadgets
Follow these steps to quickly and easily clean your boat electronics:
First, turn off the unit to keep your settings safe.

Then, spritz the gadget lightly using fresh water and a spray bottle to remove any salt residue.

Check the manufacturer's cleaning directions. If there are none, wipe the gadget's components with a soft cloth and a mixture of fresh water and mild soap. You can also use a 50/50 dilution of white vinegar or isopropyl alcohol and distilled water. Never use ammonia or bleach-based cleaners, as these can cause the screen's coating to be yellow. 

After cleaning the unit, dry it with a microfiber cloth. Do not use paper towels, as these are abrasive and often contain chemicals.

Don't rub too hard when you clean or dry the unit since the screens on some gadgets can be delicate.

Apply a bit of boat wax to your plastic radome and GPS antenna. That will give them UV protection.

When you aren't using the boat's electronics, keep their screens covered so they don't get damaged by the sun or dust.
How to winterize your gadgets
If you live in a place with cold and damp winters, think about winterizing the onboard electronics. Winterizing can be quickly done by following these steps:
First, clean the boat's electronics using the steps above.

Then, remove the electronic tools from the ship and store them indoors.

If you can't remove the electronics, disconnect the batteries. You can also put a paper bag of rice or silica bead packets

near the wiring harness to prevent corrosion when the boat isn't in use.

If you have to leave the electronics onboard, turn them off every so often to reduce the amount of moisture collecting insid

e.
Let Van Isle Marina Help You Get Connected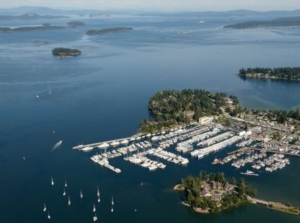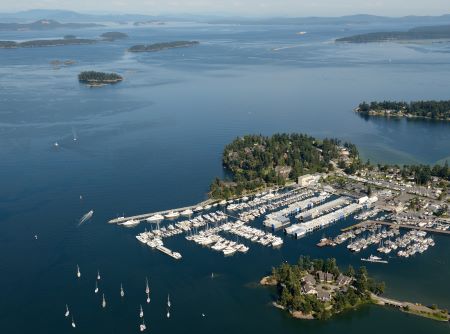 Do you need help finding a new yacht with all the electronic systems you want? The yacht sales team at
Van Isle Marina in Sidney, BC, can help guide you to a suitable model.
For more information on how we can help you, contact us today.
https://vanislemarina.com/wp-content/uploads/2023/02/boat-electronics.jpeg
1080
1080
Van Isle Marina
https://vanislemarina.com/wp-content/uploads/2018/02/logo-web.png
Van Isle Marina
2023-02-14 09:49:42
2023-08-21 12:28:44
Best Boat Electronics on The Market