Boat Mooring Checklist & Techniques

Step by Step Instructions for Successful Mooring
Knowing how to moor your boat properly is a vital skill all boat owners should have. 
No one wants to find their vessel damaged, floating away or sunk, which can all happen if it is not moored and secured properly. A damaged or submerged boat is not only a huge financial loss and stressful situation, but can cause environmental damage too.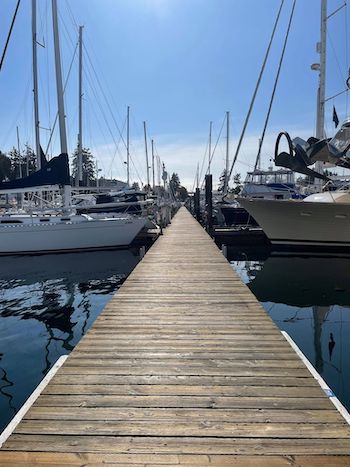 Mooring your boat securely and safely will give you the peace of mind that your boat will be ok while you are gone. Follow this boat mooring checklist to ensure your boat is properly moored each and every time.
>> Check out our mooring, anchoring and docking guide.
What is Mooring?
Mooring is the act of tying or securing your vessel to a fixed structure:
Dock

Wharf

Jetty

Pier

Quay 
These all offer some kind of walkway and direct access to your vessel for easy boarding and loading.
You can also moor to a fixed position mooring buoy. A mooring buoy is connected via a mooring chain to a fixed anchor. When you moor to the buoy, the anchor holds your vessel in place. 
Mooring buoys are in open water and good for when you want to stop at an offshore location for some time. A dinghy or tender will be needed to get to shore.
Before I Set Off – What Equipment Do I Need to Moor Properly?
Before each journey, make sure your vessel is equipped with everything you will need for successful and safe moorage, whether that is out in the water, or back at your home marina. 
At least one anchor attached to an anchor line

Bow line

Stern line

Spring line

Spare lines

At least 2 fenders (more if slip mooring)

Boat hook for retrieving mooring buoy lines
>> Check out our boating equipment checklist.
How to Moor Your Vessel – A Step by Step Guide to Mooring Techniques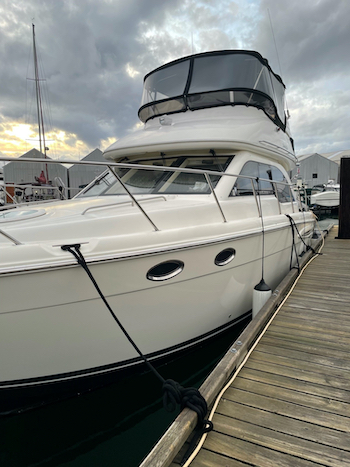 Mooring to a dock or jetty
Approaching a mooring – what to do first
Get prepared 

Does your mooring location have rules or requirements?

Do you need to check in and / or pay?

Can you moor anywhere or only in an allocated space?

Find your designated mooring spot or a free mooring spot that looks accessible

Reduce speed to minimum, then use reverse to bring boat to a stop well away from mooring

Observe any drift and consider how weather conditions and wind may impact your approach

Get lines ready by tying them to cleats

Prepare fenders and drop them over the appropriate side of vessel

Make sure there is no other moving traffic in the area before proceeding
Parallel Mooring – mooring alongside a dock and securing along one side of vessel
Approach the dock bow first at a narrow angle of around 20 degrees

When close, have a passenger step off to the dock and secure the bow line to a dock cleat

Use the stern line to pull back end of boat in by hand and secure line to dock cleat

If you will be away for some time or the weather is poor, add a spring line running from stern cleat to dock at midship then up to bow cleat.
If strong wind is pushing you away from the dock
Approach the dock at a steep (approx. 40 degree) angle

Put vessel into reverse to hold position and secure bow line to dock cleat

Put boat briefly into forward and turn wheel sharply away from dock to swing in stern

Secure stern line to dock cleat
If strong wind is pushing you into dock
Approach as slowly as possible parallel to the dock

Let the wind push you into dock (make sure fenders are in place)

Secure bow and then stern lines to dock cleats or bull railing
Slip mooring – mooring at right angle to dock or pier, between other boats or pontoons
Find mooring spot then turn so vessel is lined up in front of slip

Reverse into space being careful of other boats

Watch out for drift caused by wind and adjust as necessary

Secure boat by running lines from bow and starboard cleats to the dock
Mooring to a mooring buoy
Find out if the mooring buoy is public or private

Approach the mooring buoy from down-wind or current

Put engine into neutral and retrieve the buoy pick up line using your boat hook

Tie bowline to port or starboard bow cleat, then run bow line through loop in pick-up line

Tie other end of bowline to the opposite bow cleat
Mooring by Anchor
If you find yourself needing to stop while in open water but with no mooring buoys in sight, you will need to moor by anchor. See this step-by-step guide by discoverboating.com for tips on anchoring a boat.
After You Have Moored – Do These Things Before You Leave Your Boat
Mooring doesn't end after you have tied up your lines. Make sure you shut down and protect your vessel before you leave it.
Check your lines are unobstructed and secure

Close through hull valves

Switch on automatic bilge pumps and alarms 

Turn off non-essential electrics such as lights, VHF radio 

Connect to shore power if available to avoid battery drainage 

Store PFDs and life jackets

Latch all cabin doors

Lock ignition switches

Take your boat key and offshore essentials with you

Set boat security alarm 
>> Taking your boat in for maintenance? Check out our complete haul-out services available at Van Isle Marina.
Moorage Facilities to Suit all Vessels at Van Isle Marina
Whether you are looking for moorage options for a single night, a short stay or longer term, you'll find everything you need at Van Isle Marina.
Located in Sidney, BC, Van Isle Marina is a full-service marina with 500 open and covered berths for boats up to 200 feet plus.
Utilities for those mooring at the marina include electrical hook up, water supply, waste disposal, full fuel dock and more. Van Isle Marina also has yacht maintenance and storage facilities should your vessel require some work during your time mooring with us.
Contact Van Isle Marina today for more information about mooring with us.
https://vanislemarina.com/wp-content/uploads/2021/12/Boat-Mooring-Checklist-and-Techniques.jpeg
1080
1080
Van Isle Marina
https://vanislemarina.com/wp-content/uploads/2018/02/logo-web.png
Van Isle Marina
2021-12-07 11:13:57
2023-09-27 13:37:13
Boat Mooring Checklist & Techniques