Understanding the Pros and Cons of Chartering Your Yacht
Picture this scenario – you have just returned home from your very first outing on your brand new luxury motor yacht. While on holiday, you enjoyed a two-week, fun-filled vacation cruise down to California.
Returning home feeling refreshed and rejuvenated, you look forward to the next chance you have to take out your yacht again, only to realize that the next opportunity you have to escape is still weeks or months away.
In the meantime, your yacht goes unused and un-enjoyed, when in fact it could be making you money while being well-maintained as part of a chartered fleet.
If this sounds appealing to you, read on to learn more about yacht chartering and to see if entering your yacht into a chartered yacht fleet could be a possibility for you.
What Does It Mean to Charter Your Yacht?
Chartering your yacht, or enrolling in a yacht charter income program, refers to private boat owners making their yachts available to others to rent out while they are not using them. This is typically done through a yacht charter company.
Companies typically ask their chartered boat owners to make the boat available for a minimum of ten weeks a year. Owners can reserve or block off time in advance for their own use, and earn about 60% of the income generated by the charter company.
Boat Owner Responsibilities
When chartering your yacht, you as a boat owner are responsible for:
Paying for moorage and insurance
Paying for all routine and required maintenance costs
Ensuring your boat is moored at the home of the charter company, as needed
Providing all required safety equipment in good working order as mandated by Transport Canada
Providing dinnerware, stemware, and cooking utensils for the galley
Charter Company Responsibilities
When your vessel is in a charter company's hands, they are responsible for:
Paying for promoting and selling time on your boat
Providing fresh linens and bedding
Screening all new clients and showing them around
Inspecting, cleaning, fuelling, and restocking the boat once returned
Yacht Criteria
Not all yachts are eligible for chartering. Before considering if chartering your yacht is right for you, consider the following criteria. If you have yet to purchase your yacht and are planning to rely on chartering to offset yacht ownership costs, check with the chartering company first to see what types of vessels they are accepting.
The majority of yacht charter businesses are looking for vessels that:
Are a well-known, highly sought after make or model
Are no more than five years old (with exceptions!)
Are in immaculate condition
Are equipped with a reliable engine or solid sails
Are equipped with a motorized dinghy or tender
Have a well-equipped galley
Are in the 40 to 54-foot length range
Have 3 double cabins and more than one head (bathroom)
Vessels that are slightly smaller or larger than the 40 to 54-foot range may still be accepted, depending on their condition, amenities, and make and model.
Yachts that can sleep more than one couple, for example, a 33' or 34' boat that has a double bed and toilet ensuite, with another single or double bunk, are also sometimes accepted, based on need.
So, if your yacht, or the yacht you're thinking of buying, meets the criteria above, it's time to consider the pros and cons of chartering.
Pros of Chartering Your Yacht
Offsets the Costs of Owning a Boat
While chartering your yacht won't be a huge income generator, a successful chartering season will likely bring in enough to cover dockage, routine maintenance, and insurance fees. This works out to be a 30 to 70% reduction in operating expenses, which can make a significant difference.  If you've been on the fence about buying a luxury motor yacht due to your budget, there are two main things you can do to mitigate the cost of boat ownership:
Find an older boat or yacht to renovate; or
Charter your motor yacht through a reputable yacht charterer.
Chartering is considerably less work than renovating an old boat, and comes with added perks such as:
Gentle Use is a Good Thing 
Boats benefit from getting a little bit of exercise out on the water. Although it sounds counterintuitive, a yacht that doesn't get used much tends to have more issues than one that is used routinely. The reason is because fuel lingering in tanks isn't good, and the boat doesn't get much air circulation when it's sealed up in storage. On the other hand, when you have your yacht in a charter program, it typically means nothing will seize up or mold out on you.
Regular Cleaning and Maintenance Routine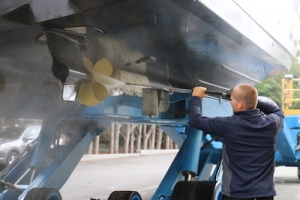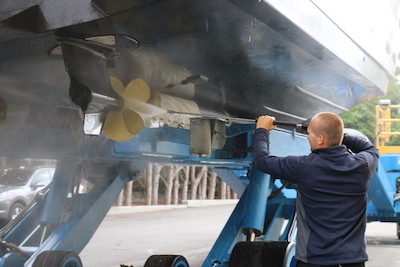 Having your yacht in a charter fleet is a great way to ensure it will get professionally maintained, as they typically have a stricter maintenance schedule. These regular servicing appointments will serve you well into the future after your yacht "ages out" of the fleet. As for cleanliness, the charter company staff will ensure your yacht is cleaned and made up for the next guests after every charter.
Marketing Your Boat 
Having your yacht out in a charter will give your boat a higher profile within the yachting community. This will help with re-sale, as the more people who become familiar with your boat and get to experience it, the better. We have found that a lot of prospective buyers of motor yachts are looking to buy because they have had a good experience using a chartered yacht previously.
Sharing is Caring
Sharing the beauty of your yacht with others can be a bit of an ego boost for proud yacht owners, providing a psychological benefit on top of the financial benefit. If you've gone to great lengths to customize your yacht, you'll certainly appreciate everyone's rave reviews on your style and taste. The effect is similar to homeowners who rent their homes on AirBnB.
Tax Advantages 
If you work closely with an accountant, you might be able to write off some expenses as business expenses associated with chartering, or otherwise receive tax benefits.
Cons of Chartering Your Yacht
Strangers on Your Yacht
While the charter company screens guests, you'll still end up having strangers on board your boat. This certainly doesn't appeal to all yacht owners. If you don't think you'd be able to handle strangers occupying your home on the water, chartering might not work out for you.
Not Being Able to Stow Your Own Stuff 
When lending your yacht to a chartered fleet, you'll be required to remove the majority of your personal belongings, including clothing, towels, toiletries, and groceries. This means having to pack these things back onto the boat each time you want to use it.
Insurance Fees May Go Up 
You'll likely need to increase the amount of insurance you have on your boat, depending on how often you'll be chartering your boat for. The price increase could be modest, but it could be substantial, so just be aware.
Increased Usage 
With increased usage comes a small amount of wear and tear. Some wear and tear can be a good thing (see point above about keeping the boat exercised), while some wear and tear isn't beneficial. For example, chartering puts more hours on the engine, and if your yacht has carpets, these will likely need some TLC after a few seasons of chartering. Fortunately, revenues generated by your charter experience will likely far outweigh the cost of said wear and tear.
To Charter, or Not to Charter?
The pros and cons of chartering your yacht can be complex, as they will be unique to your situation, location, and style of boat you own. After weighing the pros and cons, only you can say for certain whether or not chartering your yacht makes sense for you and your situation. If you're on the fence, don't hesitate to interview several charter companies to find the right fit.
If you have any questions about chartering your yacht, or about yacht ownership in general, we'd love to hear from you – simply contact us with any questions you might have.
We can also help you find the perfect boat that would also be suitable for chartering. See what boats we have for sale at our sales dock right now. At Van Isle Marina, our brokers are here to help you navigate the world of luxury yachting.
https://vanislemarina.com/wp-content/uploads/2020/09/Chartering-your-yacht.png
1080
1080
Van Isle Marina
https://vanislemarina.com/wp-content/uploads/2018/02/logo-web.png
Van Isle Marina
2020-09-15 10:23:55
2020-12-08 10:35:10
Chartering Your Yacht