Exploring Vancouver Island by Boat: From Van Isle Marina to Northern Vancouver Island
Best Places to See When Exploring Vancouver Island
Exploring Vancouver Island's lush rainforests and beautiful beaches is a boater's dream. Starting at Van Isle Marina on your map of Vancouver Island, BC, this guide to sailing Vancouver Island will highlight the best places to visit along the east coast culminating in northern Vancouver Island at the tip of Cape Scott Provincial Park.
No car, no problem. This guide to locations and activities has been carefully crafted with a boater in mind to be only a short paddle, walk or bike ride away. So, pull out your Vancouver Island map and follow along to chart your course of charming and unique destinations along Vancouver Island's eastern coast. An adventure awaits.
8 Stop Worthy Spots from Van Isle Marina to Campbell River
Starting at Van Isle Marina on the tip of the Saanich Peninsula and heading north through the Southern Gulf Islands, you will find many interesting small towns to explore as well as stunning, wildlife-filled coastlines. Some recommended stops include: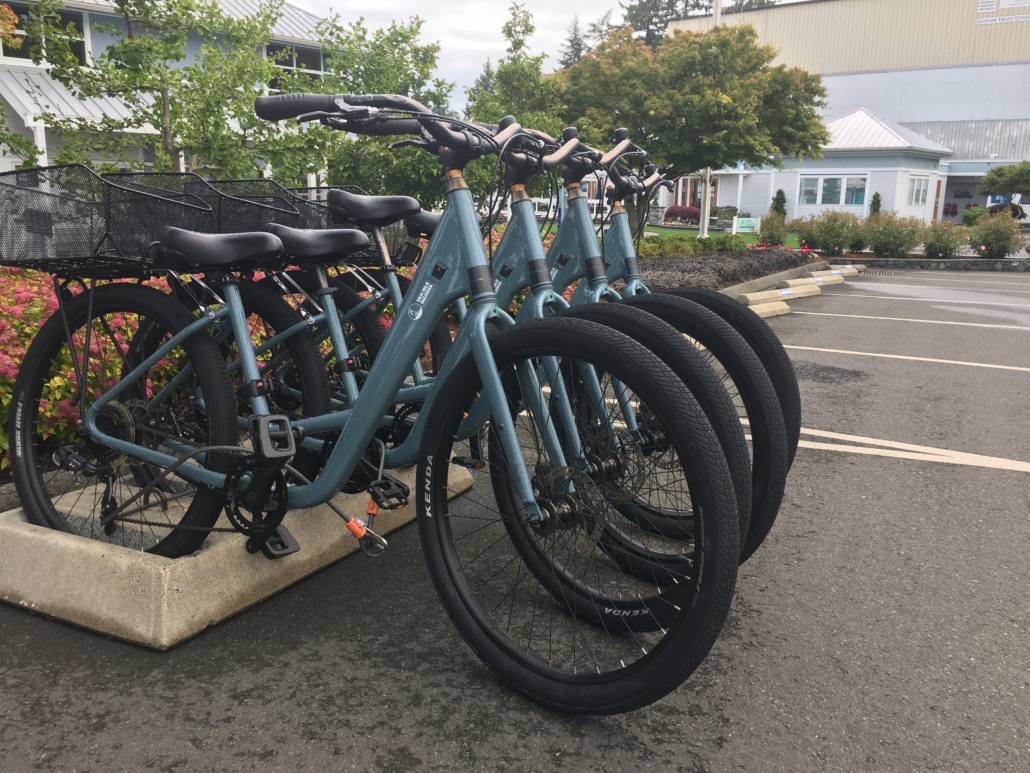 While at Van Isle Marina – Borrow a courtesy bicycle for a quick ride to an outdoor activity that will appeal to everyone – Robert's Bay Shoal Harbour Migratory Bird Sanctuary (750 m). Victoria Distillers (3 km) provides a taste of something local, while Glass Beach (3 km) will keep the treasure hunter occupied.
Explore the Float Homes at Cowichan Bay Village – Enjoy the slow pace as you wander the float-home lined bay, browse for unique trinkets and enjoy the fish & chips at The Rock Cod in North America's first Cittaslow designated community.
Shop Salt Spring Island's Farmers Market – Stock up on fresh local produce, mouth-watering baking, one-of-a-kind clothing, and internationally acclaimed art from one of the many friendly artisans at this famous Saturday market. Doggy daycare is available too.
Discover all the Murals in Chemainus – With over fifty murals and sculptures to guide you through the town of Chemainus, this community-driven art tourism experience provides a new twist on a walk around town.
Bite Into an Award-Winning Cinnamon Bun in Ladysmith – Take a short walk for a sweet treat. With nine cinnamon bun flavours to choose from and a host of house-made baked goods, there's something to suit everyone at Old Town Bakery.
Bike Around Saysutshun (Newcastle Island) – This Marine Provincial Park, home of the Snuneymuxw people, is a stone's throw away from Nanaimo. Rent a bike or walk the many hiking trails to see if you can find an elusive white raccoon foraging through a tidal pool. Saysutshun is one of the only known locations white raccoons have been encountered in British Columbia. Look for moon snails at low tides as you walk to Protection Island.
Explore the Malaspina Galleries on Gabriola Island – This unusual wavelike formation carved into the sandstone peninsula is an awe-inspiring landmark worth exploring. Best visited at low tide, the Malaspina Galleries are admission free and accessible to the public.
Shuck a Huge Fanny Bay Oyster – On your way to discovering the coastal trails on Denman Island and Hornby Island, anchor and visit the Fanny Bay seafood shop and get your hands dirty. Create your own tide-to-table experience with their fresh and sustainably sourced seafood and slurp-worthy oysters.
7 Adventures from Campbell River to Cape Sutil
Continuing the journey to northern Vancouver Island, travel through wildlife-rich waters where the island meets the mainland. Keep your eyes peeled for orcas, whales, sea lions, bald eagles and a plethora of other sea life while enjoying your journey between these recommended locations:
Sail Around Quadra Island – If sailing Vancouver Island's iconic locations is on your bucket list, Quadra Island is the perfect destination. Renowned in the Pacific Northwest for its protected anchorages and accessible beaches, the island's late-summer placid water is ideal for cruising. Weather systems at any time of the year make for exciting sailing in Quadra's many open channels.
Whale Watch at Robson Bight – The barnacle-encrusted rocks of Robson Bight attract pods of orcas to this stretch of Johnstone Strait. Unfortunately, the ecological reserve is closed to the public. However, nearby Boat Bay or Growler Cove on West Cracroft Island make excellent whale-watching anchorages. Help keep these magnificent mammals safe by following the Federal Watching Guidelines.
Rent a Cottage at Telegraph Cove – One of eastern Vancouver Islands' last boardwalk communities, Telegraph Cove, transports you to another time. Steeped in history, this colourful community of cabins still stands on stilts. Treat yourself to a night off your boat at one of the many charming rentals and enjoy the self-guided historical boardwalk tour. This convenient location provides access to paddling opportunities, outdoor adventures, and abundant Pacific marine wildlife in the Broughton Archipelago and Johnstone Strait.
Immerse Yourself in Culture at Alert Bay – Be sure to spend a Saturday on Cormorant Island to enjoy the T'sasala Cultural Group Dance Performance in the 'Namgis Traditional Big House (July & August). While you're here, marvel at the world's tallest Totem Pole and immerse yourself in the rich history of the local people at the U'mista Cultural Centre.
Take a Wander Around Port McNeill – Take a break from exploring the Broughton Archipelago in Port McNeill – home to the world's largest burl. Stroll the seawall and carry on downtown to Broughton Boulevard to view this thirty-ton bulbous growth taken from a Sitka Spruce.
Meet the Locals in Port Hardy – The Totems and Big Houses that stand tall amongst the towering Douglas Fir trees in Port Hardy connect you to the story of the Quatsino and Gwa'sala' Nakwaxda'xw peoples. Grab a coffee at Café Guido and meander through the Hardy Bay Seawall and Carrot Park, wonderful places to chat with locals.
Plan an Adventure at Cape Scott Provincial Park – If you want to get out and stretch your legs after cruising the entire east coast of the island, the North Coast Trail provides a challenging multi-day adventure for experienced backpackers. The sea stacks at San Josef Bay and sandy beaches are a stunning stop-off for those more interested in a day trip. Find anchorage at Bull Harbour on Hope Island to prepare for your west coast adventure and ready yourself to round the cape if you're circumnavigating the island.
Van Isle Marina – Excellence and Value in Every Marina Experience
Whichever locations you choose to explore on Vancouver Island, be sure to stop at the premier marina in the Pacific Northwest, Van Isle Marina. As one of the largest full-service marinas in British Columbia, our unparalleled personal service will meet all your needs. Let us know how Van Isle Marina can help you plan your trip sailing Vancouver Island.
We are located in Tsehum Harbour, just minutes from BC Ferries' Swartz Bay terminal, and the Victoria International Airport. Directions by car, boat, coordinates and chart can all be found at vanislemarina.com.
https://vanislemarina.com/wp-content/uploads/2023/04/Exploring-Vancouver-Island-by-Boat.png
1080
1080
Van Isle Marina
https://vanislemarina.com/wp-content/uploads/2018/02/logo-web.png
Van Isle Marina
2023-04-26 09:57:32
2023-04-26 09:59:35
Exploring Vancouver Island by Boat: From Van Isle Marina to Northern Vancouver Island