Best Boat For Water Sports
A Guide to the Best Boats For Your Summer Water Sports
What's the best boat for water sports? Let's find out! 
As summer heats up, there are plenty of ways to cool down in the water including lots of fun water sports.

Spending your summer by the lake or the ocean means lots of opportunities to enjoy exciting and relaxing water sports. Whether you use your boat to simply carry yourself, your friends and your water sports equipment to a suitable anchor point, or if the boat is part of the water activities, there are lots of options.
But what type of boat best suits your lifestyle and the water sports you want to enjoy? While the options are endless when it comes to water sports, some boats and yachts are better suited to certain water-based activities.
Before you head out for a water adventure check out this guide to water sports and the best boats to do them with.
Power Boats are Perfect for Surface Water Sports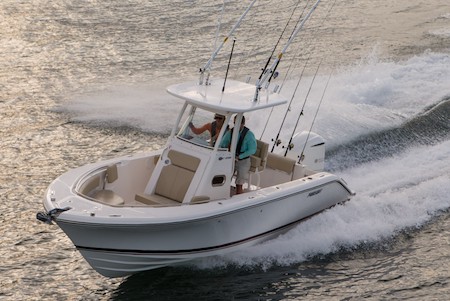 Water sports such as water skiing, knee boarding and wake surfing all fall under the surface water sport family and are easily enjoyable with the right boat. Feeling extra adventurous? Kitesurfing is also in this category, but you should seek the guidance of a professional if you're new to this activity.

With surface water sports comes a need for speed, and the ability to turn quickly which is why power boats are ideal.
Suitable boats for these kinds of water activities include:
Jet Boat:

In terms of speed, the jet boat is a great deal of fun. They're easy to manoeuvre and are very small. They're also good in shallower waters. 

Ski and Wakeboard Boat:

If tubing is your water sport preference, this is the type of boat you need. A wakeboard boat produces higher waves behind it. Seasoned water skiers or wakeboarders would benefit from this type of boat as well. 
 Check out these additional powerboat classifications for more inspiration.
Best Boats for Cruising, Sailing and Boat Trips
Relaxation, sightseeing cruises, and celebrations go hand in hand with boats, especially if you prefer more sedate water-based activities.

Dock or anchor your yacht to enjoy swimming or snorkelling in shallower water. Or stay on board and enjoy a cool drink while tanning on your deck.

Here are the best boats for cruising, sailing and boat trips:
Yacht:

Modern yachts are loaded with accessories to help you host a lunch, take a little trip or just enjoy the wind in your hair when you head out for a spin. Yachts are smart, sporty and dressed to impress. 
Trawler Boat:

The perfect boat for cruising, a trawler boat is excellent to take longer trips. Venture out to discover different islands and areas and fill your summer with exciting destinations.



Check out these great reviews by Canadian Yachting, covering boats that are spacious and versatile for cruising and more. 
Fishing – The Ultimate Water Sport?
Fishing is a great summertime activity to indulge in. Whether you're a novice or a seasoned pro, fishing is refreshing, peaceful and a lot of fun. Take these boats for a spin during your next fishing trip and you'll be sure to reel in the catch of the day with their swift, unalarming manoeuvres. 
Pursuit Console Boat:

A traditional fishing style boat that provides shelter and weather protection.

Convertible Fishing Boat:

A large boat that is best suited for both offshore fishing and distance cruising. If you're looking for a boat with a large cabin, this one's for you.

Cuddy Cabin Boat:

These small boats are great to fish with. They have a smaller overhead which can be used for weather protection. They also come with a walk-around or accessible bow, which can be useful for offshore fishing.
Paddling is People Powered Water Sports
Non-motorized water sports are trendy, peaceful, and enable you to enjoy relaxed activity in calmer waters. Paddle-powered water sports include stand-up paddle boarding, kayaking, and canoeing. Stand up paddle boards have been called the must-have boating accessory, while kayaking and canoeing are classic water sports loved by many. With water sports such as these, you have a different range of options in terms of boat choice, but if you want to transport your equipment to different locations on board, look for larger boats with more deck space:

Deck Boat:

This has lots of space which makes it ideal for hauling water sports equipment. They are also great for swimming, so try an adventurous new water sport like snorkelling. 

Bowrider:

Seats 8 or more people and is a good boat for beginners. They're also great for shallow waters and fishing, as well as water sports.
Versatile Boats for All Fun Water Sports
If you are interested in the faster, motor-powered water sports, you can't go wrong with investing in a power boat which has great versatility for many types of fun water activities.
Here's Boat Safe's guide on what to look for when buying a great power boat.
If you're looking for a boat that can do it all, consider a Pursuit Boat. As Vancouver Island's exclusive Pursuit dealer, Van Isle Marina can help you find the perfect model. 
Sporty, offshore, dual console, center console and spacious, pursuit boats have it all. They are the perfect balance between entertaining and interactive for whatever type of water sport or summer water activity you're looking for. If you're looking for the best boats for water sports, Pursuit boats are a great choice.

Go Downsize endorses the quality of Pursuit Boats, showing their durability and top-notch build when it comes to value for your money. They are one of the best boats you can invest in.
Try Out Some New Water Sports This Summer on a New Boat from Van Isle Marina
Whether you are looking for your first boat, or if you're in the market for a new one, the right vessel is key to power your aquatic adventures.
Let our knowledgeable yacht sales team at Van Isle Marina find you the ideal boat to carry you, your friends and your water activity equipment. Contact us if you're looking for the best yacht for water sports.
https://vanislemarina.com/wp-content/uploads/2022/07/A-Guide-to-the-Best-Boats-for-Your-Summer-Water-Sports.jpg
1080
1080
Van Isle Marina
https://vanislemarina.com/wp-content/uploads/2018/02/logo-web.png
Van Isle Marina
2022-07-19 14:05:49
2022-07-19 14:12:00
Best Boat For Water Sports