For boaters touring the beautiful BC coast, Vancouver Island is a must-see. Among the many islands dotting the flank of our lengthy province, Vancouver Island is not only the largest but the most visited by tourists across the country and around the world. Over 4 million people each year come to the island to experience its natural beauty, thriving arts communities, and culinary adventures.
To the south you'll find the busier part of the island and the Provincial Capital of British Columbia, Victoria, complete with attractions, museums and is the hub of hospitality. Travelling north up the island, you'll find stunning coastal towns like Qualicum Beach, Tofino and Port Hardy.
If you decide to make Vancouver Island your destination by boat, you'll need a safe place to moor, fuel your boat and body, and to get some maintenance done before you embark on your island adventure. In this article, we're going to highlight Van Isle Marina in Sidney, BC, the one-stop shop and premier destination for Vancouver Island boaters:
Full-Service Fuel Dock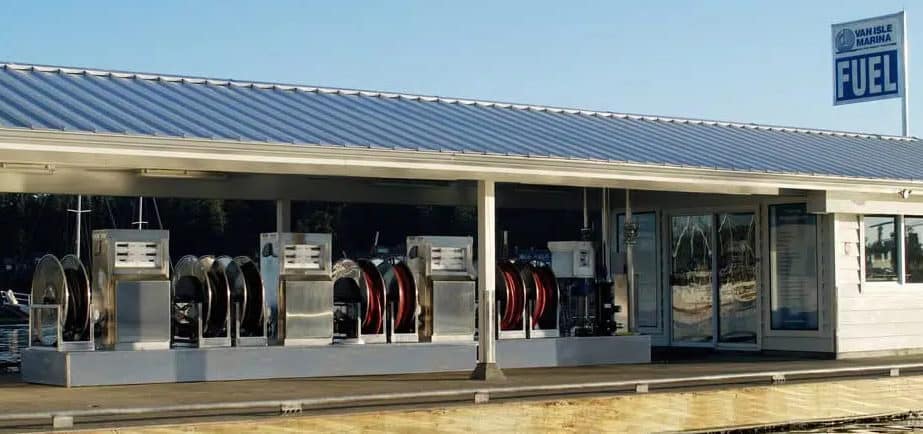 The fuel dock is a vital part of any marina. At Van Isle, boaters can find both diesel and ethanol-free premium gasoline along with a helpful fuel dock crew. The recently upgraded facility complete with electronic stainless-steel fuel dispensers has three marine gasoline and four marine diesel hoses to service you faster, with fuel flow control to accommodate both slow and fast flow requirements. Van Isle Marina is also proud to offer our Marine Fuel Discount Program for recreational and commercial marine vessels.
While you're getting re-fueled, pop into the fuel dock store for anything else you may need. Here, you can purchase Chevron oils, fuel additives and other boating supplies like ice, fishing tackle, charts and tide books, cruising guides, snacks and more.
Learn more about the fuel dock prices and details on the Van Isle Marina website.
Yacht Park
If you're arriving on the island after days of travel, it would be wise to find a marina that is a hub for different trades that provide a range of services. At Van Isle, we have a complete maintenance and storage facility that allows us to haul-out boats up to 45 tons or 75 feet. At our Yacht Park, boat owners will have a full range of maintenance options at their fingertips.
A full haul-out with Van Isle Marina includes the haul, position, block, and launch, while the half haul-out remains on a trailer. Inside the storage facility, you will have peace of mind knowing that your boat is being protected by a fully fenced yard, live web cams, security access, and is in the hands of fully insured contractors.
Aside from regular repairs and maintenance, you can also have a range of services completed on your boat, like bottom painting and power washing. More information about haul-out maintenance service can be found on our website.
Secure Moorage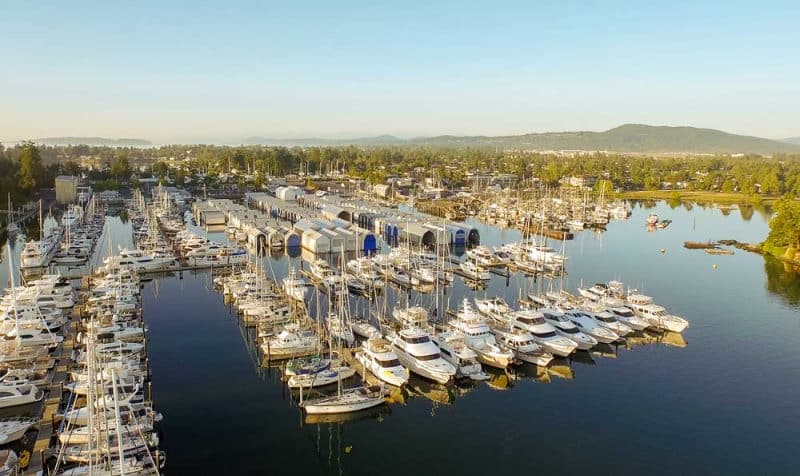 To explore the island, you're going to need a safe place to moor your boat. Van Isle Marina is proud to offer boaters nightly, monthly, and annual moorage for boats up to 200 feet. With over 500 berths both covered and uncovered, your boat will be safe while you explore what the island has to offer.
Along with a safe space to store your boat, you'll have access to electrical service, parking, water supply, waste disposal, and Wi-Fi. At Van Isle Marina, we pride themselves on being the true one-stop-shop for boat owners, providing full service and safe moorage.
Waterfront Dining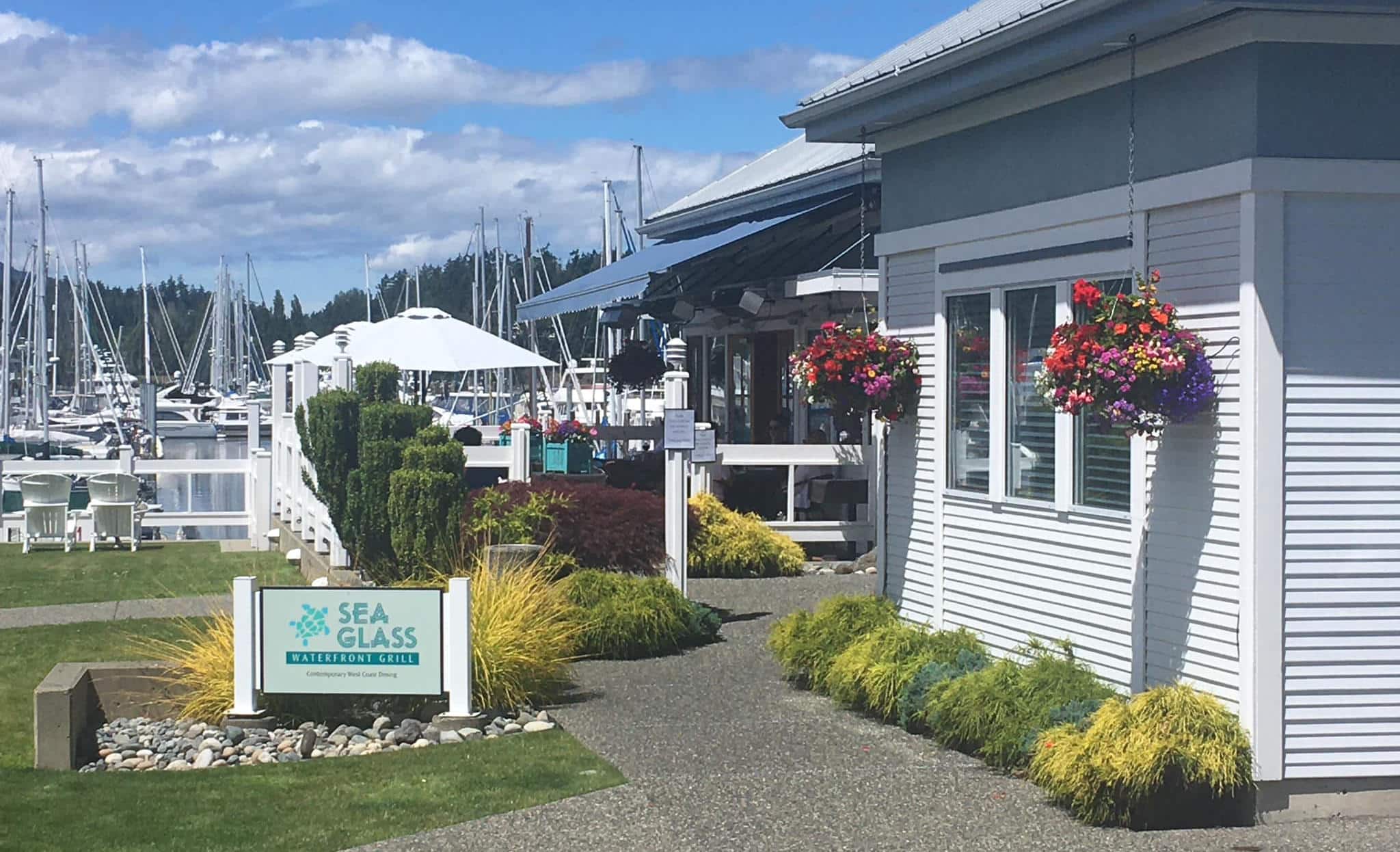 After completing your voyage to the island and docking your boat, head up to Sea Glass Waterfront Grill to experience contemporary west coast dining. With stunning views of the marina and surrounding area, sit back and relax while you enjoy your lunch or dinner.
At the Sea Glass Waterfront Grill, we pride ourselves on creating nearly everything from scratch and with local Vancouver Island ingredients. We specialize in fresh seafood and west coast entrees, with a variety of vegetarian and vegan options for all diners. And don't forget about dessert! We've got four options (all gluten-free!), including Citrus Basque Cheesecake and Crème Brûlée.
Throughout the summer months, popular among boaters, the Waterfront Grill is open 7 days a week. Lunch is served from 11am – 3pm and dinner is available from 4:30 – 8pm. To make a reservation, give the Sea Glass Waterfront Grill a call at (778) 351-3663, or check out the Sea Glass Waterfront Grill menus.
Yacht Brokerage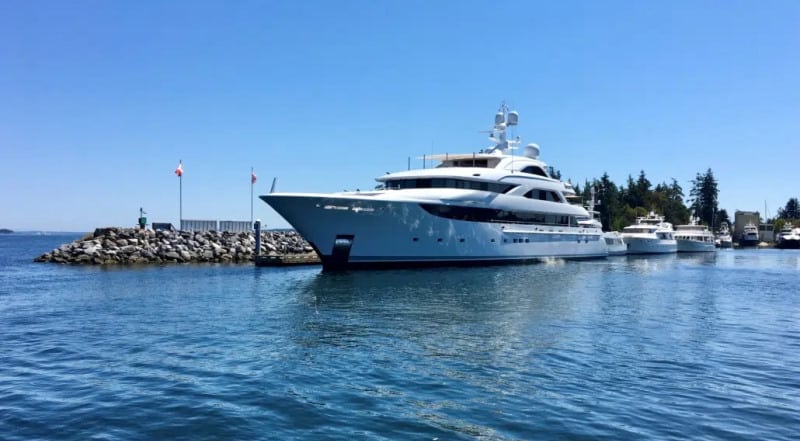 While your boat is in moorage or has been hauled-up for maintenance, why not take a stroll over to the Yacht Sales dock. Maybe you've been thinking about selling your current vessel and opting for an upgrade in the near future? Or maybe you're just looking for some inspiration.
Here in Western Canada, Van Isle are the yachting experts and the region's exclusive authorized dealer of Pursuit Boats. This is the place on the island for buying (or selling) yachts. Whether you're just browsing or planning your next upgrade, our Yacht Sales team will be ready to show you their collection of recreational vessels. We've got everything from pre-owned yachts to brand new sporting, sailing, motor and cruiser yachts.
When the time comes to make a purchase or sell your current boat, Van Isle offers the complete suite of Vessel Documentation Services to help any anxiety or headaches that come with finding and filing paperwork. We can do it all: Title & Lien Search, Closing Statement, Transfer of Funds, Bill of Sale, License Transfer, and the Casual Remittance Return Form.
Check out our current selection of boats and yachts for sale here at Van Isle.
Proximity to Town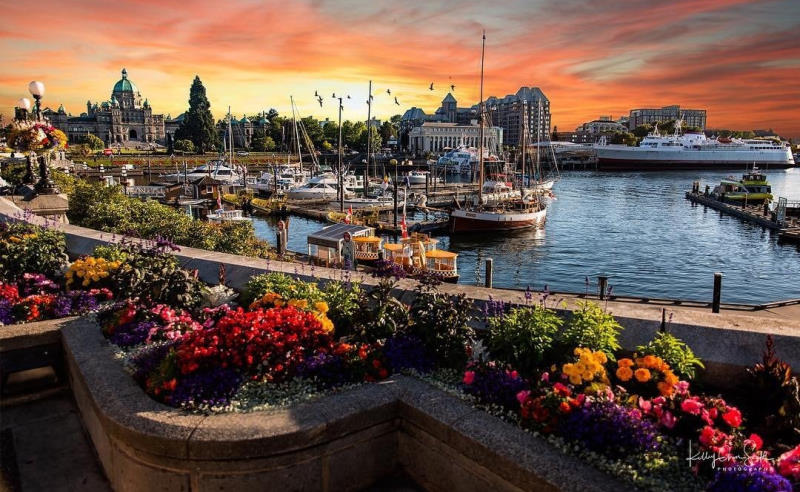 Photo credit to Tourism Victoria
One of the great perks of starting your Vancouver Island exploration at Van Isle Marina is the proximity to both Sidney and Victoria. The marina is located in the Sidney area, with downtown Sidney just a few minutes away. Stroll Beacon Avenue and take in the sights and smells of the quaint seaside town, while stopping at attractions like the Sidney Pier, Sidney Street Market and one of the several museums.
If you want to explore Victoria, the highway is just minutes away from Van Isle Marina. Hop on the highway and drive directly south for about 25 minutes and you'll arrive in the heart and soul of Vancouver Island.
If you're hoping to explore some of the other Gulf Islands with your boat resting safely in moorage, the BC Ferries Swartz Bay Terminal is just minutes away from Van Isle Marina, and can whisk you to Pender, Salt Spring, Mayne, Galiano and Saturna Island.
To learn more about Van Isle Marina and plan your trip to Vancouver Island, visit our website and see what one of the largest full-service marinas in the province has to offer.
https://vanislemarina.com/wp-content/uploads/2023/07/marina.jpg
481
800
Caorda
https://vanislemarina.com/wp-content/uploads/2018/02/logo-web.png
Caorda
2023-07-17 11:30:18
2023-07-17 11:49:18
Vancouver Island's Premier Destination for Boat Travelers