Pre-Departure and Boat Launch Checklist
A Quick Pre-Trip Checklist for Your Boat
Before you head out onto the water, it's important to complete a short boat launch checklist prior to every launch. This ensures you have everything you need and your boat is ready for a day at sea. This pre-departure check is similar to what you'd do when checking over your car or truck before a short trip. This whole checklist should take no longer than 20 minutes if everything is ready to go from your last launch.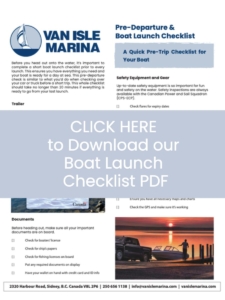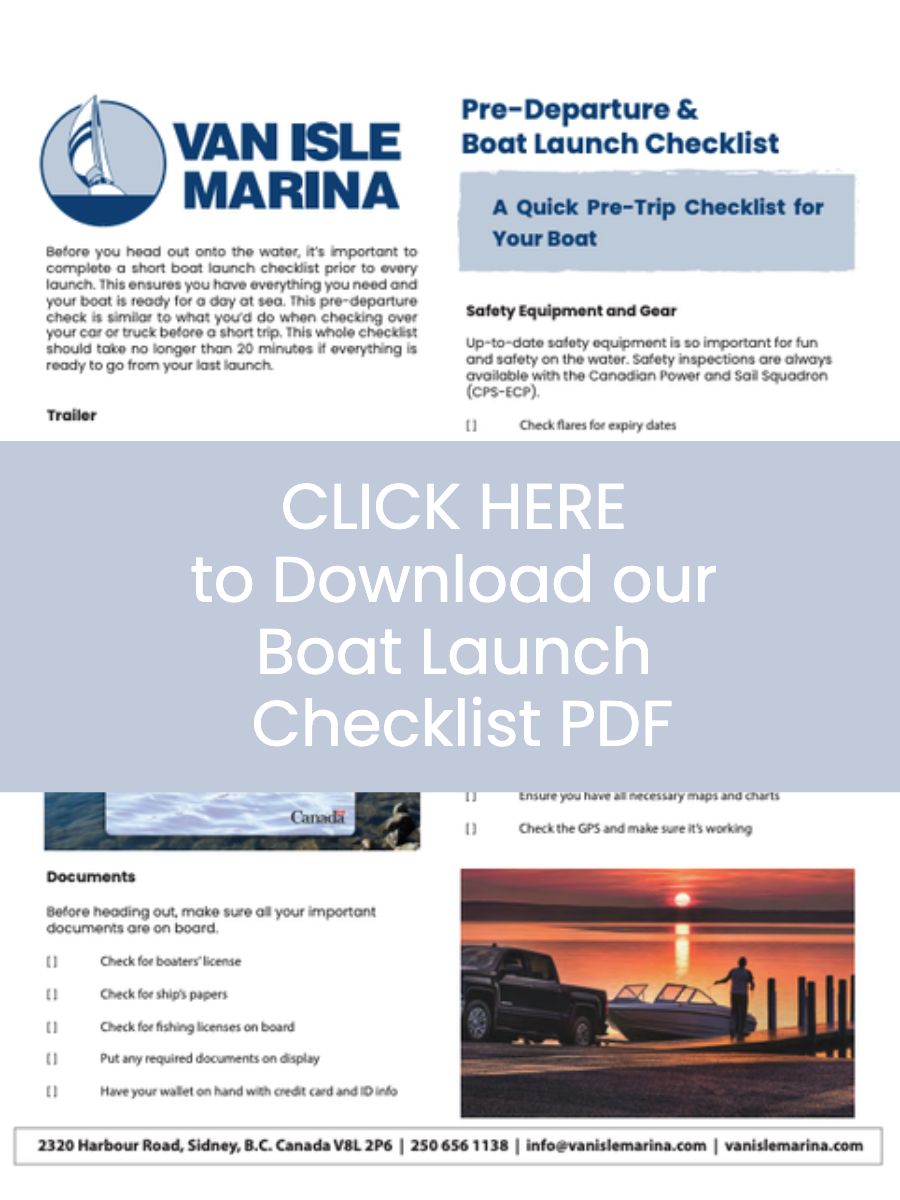 Trailer
If you're trailering your boat back to the water, it's a good idea to give the trailer itself a quick check
Check trailer tires for pressure and refill if needed

Check tongue latch and coupling

Check trailer brake fluid level

Check trailer lights and replace as needed

Check the padding and rollers
Documents

Before heading out, make sure all your important documents are on board
Check for boaters' license

Check for ship's papers

Check for fishing licenses on board

Put any required documents on display

Have your wallet on hand with credit card and ID info

Safety Equipment and Gear

Up-to-date safety equipment is so important for fun and safety on the water. Safety inspections are always available with the Canadian Power and Sail Squadron (CPS-ECP)
Check flares for expiry dates

Check lifejackets and make sure there are enough for everyone on board

Check radio to make sure it works. Replace batteries or charge if needed

Check fire and carbon monoxide detectors

Check fire extinguishers

Navigation
Navigation equipment should be checked and properly calibrated before every single trip, even just a short trip
Check the navigation lights

Check the compass to make sure it's properly calibrated

Ensure you have all necessary maps and charts

Check the GPS and make sure it's working

Anchors, Lines and Ropes

All mooring and anchoring equipment should be clean and easy to reach
Is anchor securely fastened with proper knots?

Is there any damage to the anchor?

Make sure there's enough line to be able to easily throw out anchor and moor 

Make sure there is extra line in case of emergency

Check the knots in the line

Check for any damage to the line
Engine and Fuel System
The heart of your boat, you won't get very far without the engine! If you notice any strange noises or smoke, contact a boat mechanic for assistance
Fill fuel tank

Run the engine and listen for any trouble

Check fuel lines for any leaks or damage

Check that all fittings are tightened

Check that exhaust, engine and ventilation systems are in good shape

Run the engine and check for smoke

Check transom mounts (outboard)

Fluid Levels
Topped-up fluids will keep your steering system and engine working hard. Always check and top up your boat's fluids
Check coolant

Check engine oil

Check power steering fluid

Check power trim reservoirs

Check coolant levels
Electrical

As boaters, we rely heavily on electrical equipment for a safe and comfortable experience. Take a few minutes to check each of the electrical components.
Check all connections for corrosion and cleanliness

Remove battery terminals, clean connections with wire brush

Check the battery is charged. Replace if needed

Test the generator on full tilt

Check interior and exterior lights

Check navigational equipment (GPS)

Check electrical box

Check HVAC and / or air conditioner while running on hot and cold

Bilge
Always check to make sure the bilge is in good shape and the drain plug is secure.
Make sure the bilge is drained of excess water and free of fumes

Check for any plugged intakes

Check to make sure the bilge pump is working

Check to make sure a spare drain plug is on board
Lights
Check all interior and exterior lights to make sure you'll never be left in the dark
Check safety lights 

Check lights in cabin and head (if applicable)

Double-check navigation lights and emergency lights

Check lights in livewells
Propeller

If you see any marks or chips, this could affect your propeller's performance.  If in doubt, talk to a pro about repair or replacement
Check all propellers for any damage

Make sure propellers are secure and replace bearings if needed
Interior

The cabin is your home away from home, particularly on multi-day trips. Take a few minutes to check lighting, appliances and water, to ensure a relaxing trip
Check for water pressure and quality

Check for leaks in fridge

Check temperature in fridge / freezer

Test the appliances

Check TV, speakers and any other extras
At Van Isle Marina, we offer moorage with annual, monthly and guest options. Conveniently located in sunny Sidney, BC, moorage with us is just moments from countless destinations. With amenities like storage locker, car parking, and a full-service marine fueling station and dock store, you'll find everything you could need to outfit your boat and get ready for your trip. Come and see us, or request services/moorage information today.
https://vanislemarina.com/wp-content/uploads/2021/07/Pre-departure-Boat-launch-checklist.png
1080
1080
Van Isle Marina
https://vanislemarina.com/wp-content/uploads/2018/02/logo-web.png
Van Isle Marina
2021-07-06 17:00:43
2021-08-17 12:37:59
Pre-Departure and Boat Launch Checklist