Things to Do in Victoria, British Columbia: The Boat Traveler's Guide
Located at the southern tip of Vancouver Island just off Canada's west coast is the charming city of Victoria. With a population just under 400,000, Victoria is a smaller city with a very small (and walkable) downtown core that attracts nearly 4 million tourists per year. But why in Victoria?
Why Victoria?
Victoria is an especially desirable destination for nearby boat travelers, who can make the relatively easy trip from the United States or mainland BC, find a boat marina, and explore the city on foot. There's also a cruise ship port that empties thousands of visitors everyday (during the warmer months) into the downtown core.
One reason why Victoria is able to attract so many visitors is its alluring British colonial past and visually appealing façade, complete with old architecture, countless gardens, character homes and stunning harbour. And when you factor in the city's very dense selection of restaurants, bars and attractions all within walking distance, it's easy to see why people love visiting Victoria.
Another reason why people flock to Victoria is its unique climate. If you're unfamiliar with Victoria weather, you might expect cold temperatures and snow, like typical Canadian cities. But Victoria, along with other destinations on the southwestern coast of Canada, enjoy a pleasantly mild climate. That means tolerable winters with minimal snow and temperatures that hardly ever drop below -5 degrees, and summers that are equally mild, rarely seeing heatwaves hotter than 30 degrees.
Victoria is also a quite deal drier than other destinations, like our not-so-far away neighbour, Vancouver. Despite being just around 100km apart from each other, Victoria's yearly rainfall of 58cm dwarfs the yearly total of 146cm over in the big city.
So you've decided to make the trip to Victoria. What is there to do? In this article, we'll be your personal guide to the city, detailing everything from the best restaurants to hotels to must-see attractions.
Mooring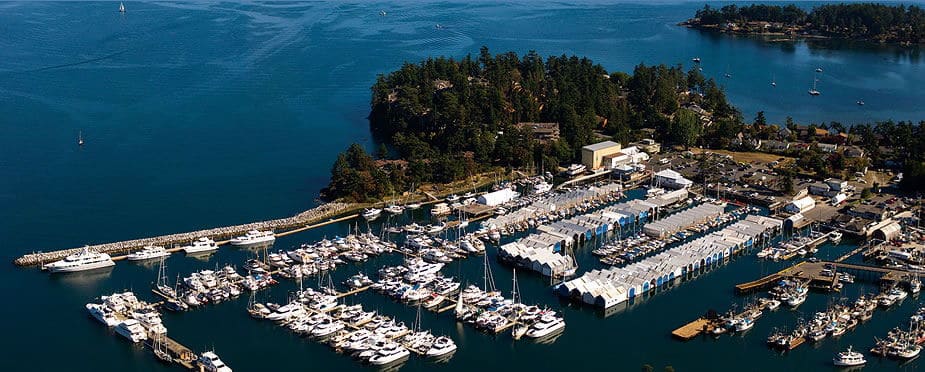 If you've arrived in Victoria by boat, the first thing you'll need to arrange for is mooring. At Van Isle Marina located in Sidney, about a 30-minute drive from downtown Victoria, we offer moorage on a nightly, monthly and annual basis. We can store boats up to 200-feet in our 500 open and covered berths.
But aside from just a place to leave your boat while you set off exploring, you'll probably be looking for a place that can provide other services. At Van Isle, we can haul your boat out for repairs, new paint or other maintenance. We also have a full-service fuel dock, a yacht park full of boats for sale, and the Sea Glass Waterfront Grill.
Transportation
Transportation is an important factor to consider before you arrive in Victoria, because there is no high-speed or underground transit system. If you're getting here by water, you're probably arriving at the BC Ferries Swartz Bay Terminal, or at a marina like Van Isle. Both the ferry terminal and the marina are very near each other – about a 30-minute drive or a 45-minute bus ride from downtown Victoria. If you choose to hire a taxi or Uber, expect to pay more than $100. The bus on the other hand will take slightly longer, but will only cost $2.50 and will drop you directly downtown. If you're arriving from the airport, expect about the same since its located near the ferry terminal.
If you're arriving by cruise ship, you'll be faced with a roughly 25-minute walk to reach the downtown core. There should be a number of shuttles taking you to and from, but if the weather's nice, you can also take a more exciting and scenic rickshaw cab.
If you're arriving from Port Angeles or Seattle, you will be whisked straight to Victoria's Inner Harbour – right in the middle of the action. From here, you can remain 100% on foot, and as long as you don't plan on leaving downtown, you'll never need a car, bus or taxi.
The downtown core of Victoria is rather small and extremely walkable. But if you want to explore the Breakwater, Beacon Hill Park and other attractions that are still in town but a little far on foot, consider hopping on a bus, hiring an Uber, or catching a rickshaw or taxi.
Accommodation
If you're hoping to stay near the major attractions in Victoria, there are plenty of hotels in the downtown core and James Bay neighbourhood. Many will offer stunning view of the Inner Harbour, plus walking distance proximity to all the best restaurants, shopping, and attractions.
The Fairmont Empress is one of Victoria's most iconic buildings, sitting right at the edge of the Inner Harbour. Named after Queen Victoria, this massive hotel was constructed beginning in 1904, and remains one of the most popular hotels on Vancouver Island.
Near the Empress in the downtown core, you'll find a variety of smaller hotels that put you right in the middle of the action for shopping, restaurants and bars. Try Hotel Rialto, Chateau Victoria or the Victoria Regent Waterfront Hotel. If you move south towards the Parliament Buildings and other major attractions on the border of James Bay and Downtown, you'll find much larger hotels like the Hotel Grand Pacific and the Inn at Laurel Point.
If a vacation rental is more your speed, there are variety of apartment units on Airbnb that are available as private rooms in shared homes or entire homes.
Restaurants
Victoria is home to the highest number of restaurants per capita in all of Canada, so you'll be sure to find something to your taste. From ramen bars to upscale Italian restaurants and sushi spots, there's really something for everyone. If you prefer staying near the marina and ferry terminal in Sidney, try the Sea Glass Waterfront Grill. With incredible marina views, they've got full dinner, dessert and lunch menus with plenty of seafood.
If you're looking for the best of the best in downtown Victoria, there are a few notable options you need to check out. Pagliacci's is a Victoria favourite known for Italian dishes, fun décor & live music. Il Terrazzo is a level fancier with brick fireplaces and an expansive wine list. Finn's is another awesome spot that backs onto the harbour with a large patio, specializing in seafood, steaks & classic cocktails.
If you're looking for something a little more casual in town, Red Fish Blue Fish is a great spot down on the harbour serving dockside seafood, but only open during the warmer months. 10 Acres Commons and Bistro is another cozy spot near the harbour, split into two parts – Commons for the waterfront patio and full cocktail menu, and Bistro for farm-to-fork meals. If you're looking for Asian cuisine, try Ghost Ramen for some terrific ramen or Gozen Sushi Bar for some of the best sushi.
Bars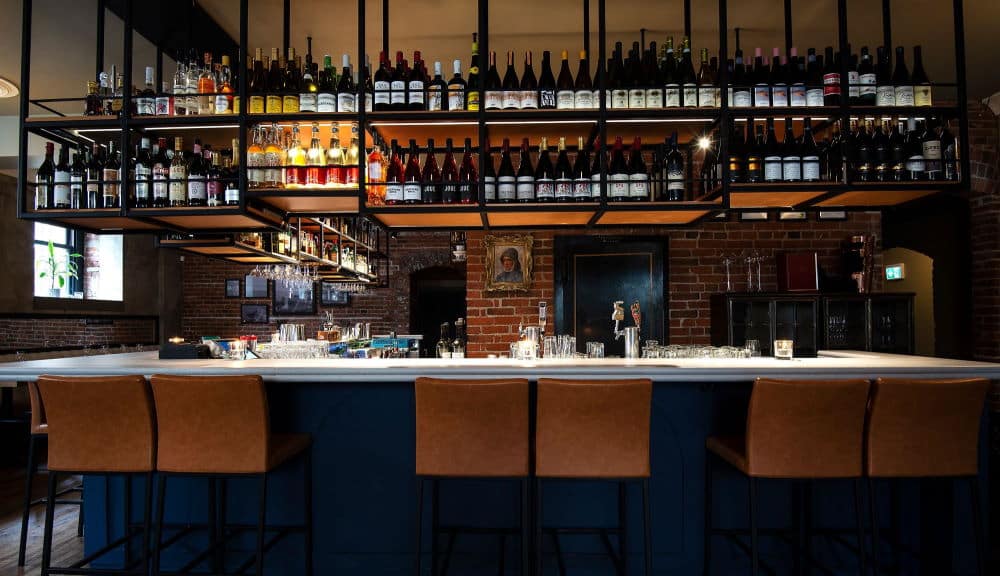 Despite its small size, Victoria is home to an incredible bar scene. If you're in the mood for wine, try the new Tourist Wine Bar for a selection of local and imported wine, or Bodega for some delicious Spanish wine and tapas. Wind Cries Mary is another spot to venture for more upscale vibes, where you'll find a huge wine list, romantic patio and fancy cocktails.
If you're on the hunt for a cocktail bar, there are dozens of great options offering everything from quaint and cozy vibes to a more rustic atmosphere to trendy and upscale. Little Jumbo is a cozy but chill cocktail bar with an elevated cocktail menu. Tora Tiki is a retro-style bar with exotic cocktails and surf music. And if you want some views of the city, try Vista 18 on the 18th floor of the Chateau hotel.
Attractions
Victoria has plenty or popular tourist attractions that are all reachable on foot, clustered around the downtown core and James Bay neighbourhoods. But if you want to get out more and tour the Victoria streets filled with character homes and gardens, try one of the double-decker tour buses.
One of the main attractions in Victoria is the Inner Harbour. One of the most beautiful in the world, the Victoria Inner Harbour is packed with recreational vessels, ferries, whale watching boats and small cruise ships, and is surrounded by other attractions, restaurants and bars. It's also the place to be in the summer months for festivals, live music and sunset viewing.
The harbour is flanked by two of Victoria's most iconic architectural landmarks and tourist attractions – the Empress Hotel and BC Parliament Buildings. The Royal BC Museum is also right there in the harbour, the sprawling Beacon Hill Park is 15-minute walk away.
Another major attraction that will require a car or bus to get to the is Butchart Gardens. Located in Brentwood Bay, this National Historic Site of Canada receives nearly a million visitors. There are roughly 5 hectares of gardens, which makes for a truly beautiful walk. The summer is the best time for checking out the gardens, but during the holiday season the gardens transform into a must-see winter wonderland.
If you want to check out more of Victoria's charming colonial flavour closer to town, stop by the Craigdarroch Castle, a beautifully restored National Historic Site leftover from the Victorian-era. There's also the stunning Carr House for art and literature enthusiasts, and the Pendray Inn and Tea House.
Victoria's Chinatown is another must-see, located right in the middle of downtown. The colourful streets are lined with Chinese grocery stores and restaurants plus trendy coffee shops and shops. And be sure to take a stroll down the famous Fan Tan Alley, the narrowest commercial street in North America that's packed with artisan shops.
Coffee
The city of Victoria is no slouch when it comes to coffee shops. There are seemingly countless places to find a good cup of coffee or fancy latte. In the downtown core, some of the most popular are Discovery Coffee, with yellow branding, three locations and incredible locally-made pastries, and Habit Coffee, a cozy spot for a meeting with excellent coffee.
For a more historic spot to get your morning joe, try Murchie's Tea and Coffee. Located right on Government Street in the main tourist zone, this spot is over 100 years old and is stocked with cakes, sandwiches and other treats.
Further down Government Street by the harbour is another fantastic spot called Milano. This trendy shop has an Italian feel with west coast design features, and is known for amazing espresso. Here you can sit along the windows or on the patio and take in all the action of Victoria's busiest walking street.
Entertainment
As a centre of culture, arts and music, Victoria has plenty of venues and things to do that will keep you entertained no matter how long your stay is. The Royal Theatre and MacPherson Playhouse are two of the busiest venues for musical performances, comedy shows and plays. The nearby Belfry Theatre in Fernwood is another excellent place to catch a live performance.
For live music, there are bars and special venues that provide nightly entertainment. Darcy's Pub, Hermann's Jazz Club, The Duke Saloon and Bard & Banker are some of the best bars to enjoy live music. To catch live shows from touring artists, check out what's playing at the Capital Ballroom, the Alix Goolden Performance Hall or the Victoria Event Centre.
If you're looking for something a little outdoorsy, Victoria has plenty to offer with mountains, hiking trails, rivers and lakes a short car ride away. But if you're new in town and would rather stay downtown, the whale watching tours leaving from the Inner Harbour are bucket list-quality.
If you're thinking about visiting Victoria by boat, Van Isle Marina is your one-stop-shop. We've got places to moor, and can provide full maintenance services for boat owners. We've also got a restaurant, haul-out services, and everything a boat owner could need. Contact us today to inquire.
https://vanislemarina.com/wp-content/uploads/2023/10/city.jpg
532
1000
Van Isle Marina
https://vanislemarina.com/wp-content/uploads/2018/02/logo-web.png
Van Isle Marina
2023-10-17 12:18:08
2023-10-19 11:23:59
Things to Do in Victoria, British Columbia: The Boat Traveler's Guide