28 Motorboat Types – from Aft-Cabin to Walkaround
If you've been browsing our listings for new and used boats, you likely have questions about sizes, styles, makes and models. Because the powerboat market is constantly changing, many categories of powerboats can share characteristics with another type of boat or yacht.
As Western Canada's yachting experts, we can help make sense of it all.
Whether you need a new dinghy/tender for your yacht, are looking for your very first boat, or would like to upgrade from a cruiser to a luxury model by Pursuit, read on to choose the right boat for your needs.
Powerboat Types
Aft-Cabin: The aft-cabin boat has a stateroom on the stern of the boat. This type of boat has a ladder or stairs to access the cockpit as well as the helm. It is also a flybridge but there is a stateroom located on the stern of the boat.  The inboard engine is centrally located, generally underneath the living room floor.
Bass Boat: Primarily used for fishing on lakes and rivers, this a type of boat with a flat deck, low freeboard and a shallow draft.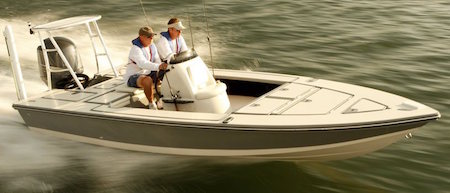 Bay Boat: The Bay Boat has a low-freeboard centre console and is designed for use near shore and around coastal waters.
Bowrider: A Bowrider is a powerboat with seating in the bow area with room for eight or more people. The v-shaped hull creates a smooth ride inland or in coastal waters.
Cabin Cruiser: Any motorboat with sleeping accommodations within can be called a cabin cruiser. These are perfect for relaxed cruises and have many modern amenities like heaters and air conditioners. Ideal for coastal waters, cabin cruisers have a deep v-shaped hull and a secure drive shaft mechanism.
Catamaran: With dual hulls, a catamaran is more stable than other types of power boats, but it's also much pricier. Catamarans are a crossover powerboat, with sails as well as engines.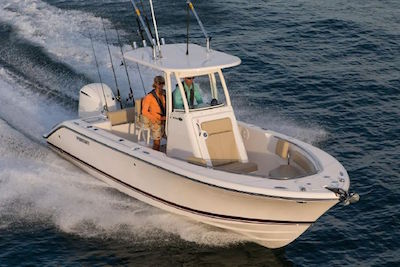 Center Console: A powerboat with the steering station in the centre of the boat. These crafts generally have an outboard motor and are perfect for ocean cruising with larger waves.
Convertible: A larger sized boat with a flybridge built on top of the cabin and an open cockpit aft. These are favoured for weekend cruising.
Cuddy Cabin: A powerboat with a relatively small, no frills cabin on its bow section. Good as a weekender for cruising the coast.
Deck Boat: This has a flat, open deck plan and no accommodations below decks. Most deck boats are box shaped, creating more forward deck space.
Dinghy: Using small outboard motors, a dinghy or tender can be inflatable or hard-sided. They're used for transporting people and their belongings to and from shore.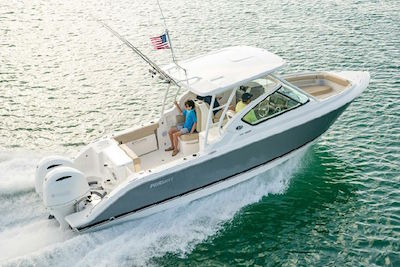 Dual Console: A boat with twin dashboards, separated by a walk-through that accesses a forward cockpit or seating area.
Express Boat: A sleek boat with a steering station on deck level, no flybridge, and a cabin that is forward and lower than the helm.
Fishing Boat:  Easily maneuverable, most fishing boats usually have a front bow, features like rod holders, live well compartments and trolling motors.
Flats Boat: This is a skiff used for fishing in shallow-water areas.
Flybridge:  Boat with a helm above the interior cabin that is accessed by stairs or a ladder. This provides more vision while navigating the boat and adds more living space underneath.
Houseboat: Built on a barge-like hull, a houseboat acts as a floating RV. Also known as float houses, houseboats can be bare bones or loaded with luxurious extras and are ideal for entertaining and enjoying water sports. Some can be used for cruising, while others are moored in place.
Jon Boat: Usually made of aluminum, a Jon boat is a small utilitarian boat with a flat bottom.
Megayacht: A yacht exceeding 200 feet and reaching up to 500 feet, megayachts are custom-made and accessible to only the wealthiest in the world. Featuring luxuries like large swimming pools, heliport, 3 or more guest rooms and room for a full crew of around 30 people, megayachts are decadent floating resorts.
Pontoon Boat: Built on two or more aluminum pontoons, a pontoon boat has a flat deck and a perimeter fence and is most often used for tour groups.
Rigid Inflatable Boat: Also known as RIBs, a Rigid Inflatable Boat is an inflatable boat built around a rigid hull made of fiberglass or aluminum.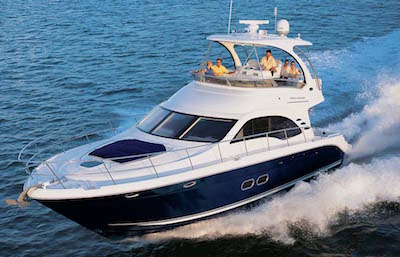 Sedan Bridge:  In a Sedan Bridge, the cockpit is almost at the same level as the boat's aft deck. This means that there's no need to climb stairs or a ladder to reach the cockpit. The Sedan Bridge and Sport Bridge are similar in that they both offer easy access to the cockpit.
Skiff: Skiffs have a flat bottom and pointed bow, making them ideal for navigating shallow water. In many different sizes and lengths, skiffs are easy to operate with a basic steering console.
Superyacht: A superyacht is a yacht that is over 100 feet but less than 200 feet long. With multiple accommodations and multiple decks, a living room, galley and lounges, it's meant for hosting many guests and enjoying fun in the sun out on the water.
Skylounge: A Flybridge with an enclosed cockpit, the Skylounge offers exceptional comfort for the captain and people accompanying the captain. With air conditioning, a sofa, a full bar, tv and many other amenities, the cockpit is fully protected from the elements.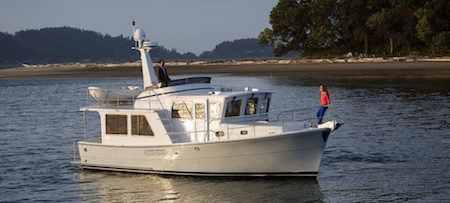 Trawler: A long-distance recreational vessel that resembles commercial trawlers, this boat is ruggedwith a displacement hull and efficient engine(s). Made for long-haul cruising with minimal horsepower and fuel consumption, trawlers have all modern facilities on board for optimal comfort.
PWC (Personal Watercraft): PWC boats, also known as water scooters and jet skis, are designed for fun and adventure. Sit down models are meant for two or more people, while stand up models are meant for one rider.
Walkaround: Built with side decks around the cabin, a walkaround boat lets passengers easily walk around the cabin and up to the foredeck.
At Van Isle Marina, our team of certified brokers specialize in matching skippers like you with their perfect boat. If we don't have it in stock, we will search the world over to locate it. To get started on your search, browse our boats and yachts for sale, call us, or visit our world-class sales dock at 2320 Harbour Rd in Sidney, BC.
https://vanislemarina.com/wp-content/uploads/2020/12/Types-of-Powerboats.jpg
948
1000
Van Isle Marina
https://vanislemarina.com/wp-content/uploads/2018/02/logo-web.png
Van Isle Marina
2020-12-08 11:05:02
2023-09-14 12:07:09
Types of Powerboats