Bow and Stern Anchoring Best Practices

How to Set Two Anchors
Knowing a variety of stern and bow tying and anchoring techniques is essential for any boater's toolkit. Here on the West Coast of Canada, we have such a wide variety of anchorages. Knowing which anchoring technique to use will come in handy many times over and bow and stern anchoring is one of the best since it's so versatile.
When to Use Bow & Stern Anchoring
Anchoring in small bays
For mooring, if required
Anchoring at the narrow edge of channels
Anchoring in busy areas
Anchoring in soft ground
Anchoring amid shifting currents and tides
Anchoring right over a great fishing spot
Anchoring in a storm situation
Anchoring at an angle that protects your boat from rolling waves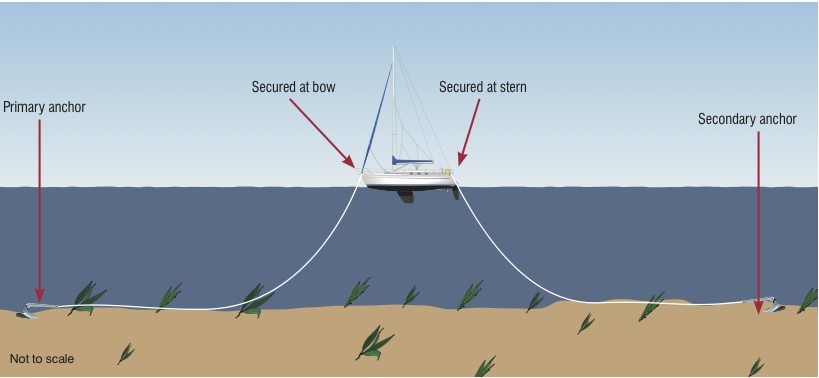 For best results when using a bow and stern anchoring technique, make sure you get plenty of practice in sheltered waters. This way, you can deploy and retrieve both anchors and cruise away in just a few simple steps. At the same time, brush up on your knot tying skills with our guide to 9 easy knots for boating.
On the West Coast of BC, we're so lucky to have our pick of spectacular anchorages all the way around the Vancouver Island. For areas with high winds and strong currents, like Cape Scott through to Quatsino Sound, we highly recommend using the bow and stern anchoring technique. This is also an excellent technique for a calmer but tight anchorage like Telegraph Harbour, just off Chemainus. Dual anchoring techniques can also make it possible for you to sail or cruise to areas you'd only dreamed of. In fact, having a boat and knowing how to best operate it is like having a pass to some of the most exclusive and secluded destinations.
Prepare your Primary and Secondary Anchors and Lines
Find a calm space away from other traffic on the water and get your stern anchor and lines ready, making sure knots are securely tied.
Attach a buoy and trip line using a hitch knot or anchor knot (optional) to your stern anchor's trip line hole. A trip line and buoy allow other boaters to clearly see that you have an anchor out.
Load the anchor and line into your dinghy, making sure your line is tied securely to the boat or through a fairlead and winch if you have them.
Anchors Aweigh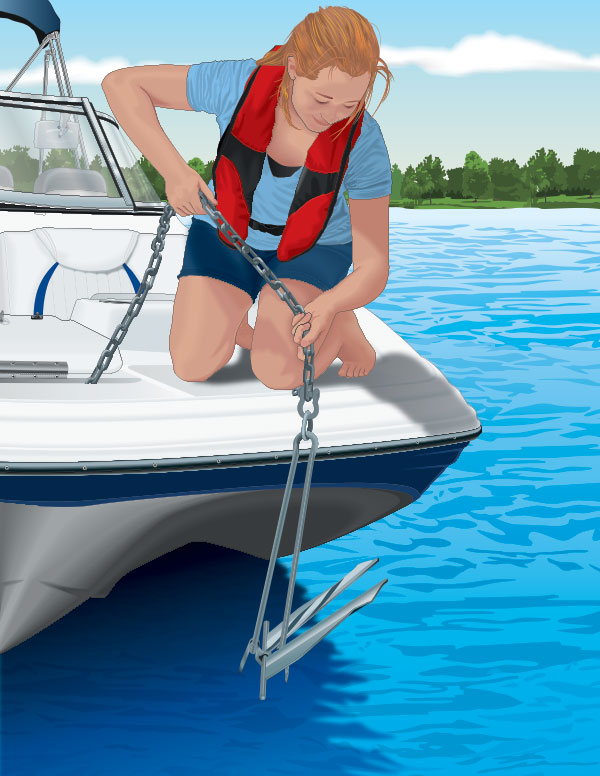 Facing the wind, set your primary anchor.
Slowly back away, paying out extra line.
Next, you or the skipper will board the dinghy and get the stern anchor ready. Refresh your knowledge on dinghy and tender safety.
Drop the stern anchor behind the boat on either the port or starboard side. You'll want to angle your boat at 15 degrees off the windward swell (on a diagonal).
Drop the stern anchor from the dinghy with a scope of minimum 5:1. This means you'll want to anchor at 5 feet for every 1 foot of water depth.
If you're anchoring overnight, aim for at least a 7:1 scope. To increase length, you can add chain to the lines. Add at least 20 feet of anchor chain for best results, especially in strong winds. If there isn't enough room to let out as much rope as you need for a good scope, you can also use a kellet for extra weight. The kellet should be placed on the mid-line of the rope. This will help to keep your anchor rode nice and horizontal in the water, keeping the boat in position.
Take in the slack for the stern anchor and set it.
Moving back to your primary anchor, adjust the scope as needed, making sure to pay out enough line for the secondary anchor. When you're done, both the bow and stern anchors should be tight.
Retrieving your Anchors
When you're ready to keep moving, make sure your engines are ready and willing.
Create some slack in your stern anchor line.
If you used a tripping line and buoy, take the dinghy out to haul up the anchor. If you didn't use a buoy and tripping line, give the bow line slack. Then move the boat back to the stern anchor drop point. Haul the anchor just like you would for your primary anchor.
Bring your stern anchor and rode onto the boat and stow them safely.
Secure the dinghy
Haul in your primary anchor as you normally would and head out!
The stern and bow anchor technique takes some finesse. Be sure to practice it regularly to keep your skills sharp for when you want to anchor in a small bay or inlet. Also always make sure that you have the right anchor and ground tackle for the size of the boat and wind conditions. This is known as holding power.
For instance, a 25 foot yacht in winds of 30 knots would require holding power of 490. If this boat were using an anchor made for lighter wind conditions and a smaller boat, you'd run the risk of damaging your equipment and losing the anchor.
Our team at Van Isle Marina know that your boat is your baby, so if you have any questions or concerns about the right anchor for your yacht, check out our two-part series on anchors and anchoring or contact us for help.
Part One- Types of Anchors
Part Two- Anchoring Your Boat
Are you looking for the perfect boat to make this summer unforgettable? Come and see us at Van Isle Marina where we have a fantastic selection to choose from, plus a large (and growing!) selection of luxury Pursuit Boats. Fully loaded with everything to make lifelong memories on the water, Pursuit Boats are made in the USA and built with world-class features and amenities. Browse our new and used boat listings, then contact our expert yacht broker, to find your new boat today.
https://vanislemarina.com/wp-content/uploads/2021/05/Bow-and-Stern-Anchoring-Best-Practices.jpg
1080
1080
Van Isle Marina
https://vanislemarina.com/wp-content/uploads/2018/02/logo-web.png
Van Isle Marina
2021-05-11 11:33:21
2023-09-20 12:23:05
Bow and Stern Anchoring Best Practices