De-Winterizing Your Boat Checklist
Spring Maintenance Checklist for Your Boat
Spring is here and you're more than ready to get back out on the water. There are a few key things you're going to need to take care of first though, to make sure that your boat is ready for the inaugural trip. Not only will properly de-winterizing your boat ensure that everything's in good working order, it will help extend the life of the boat.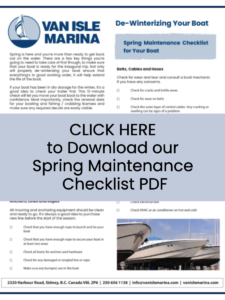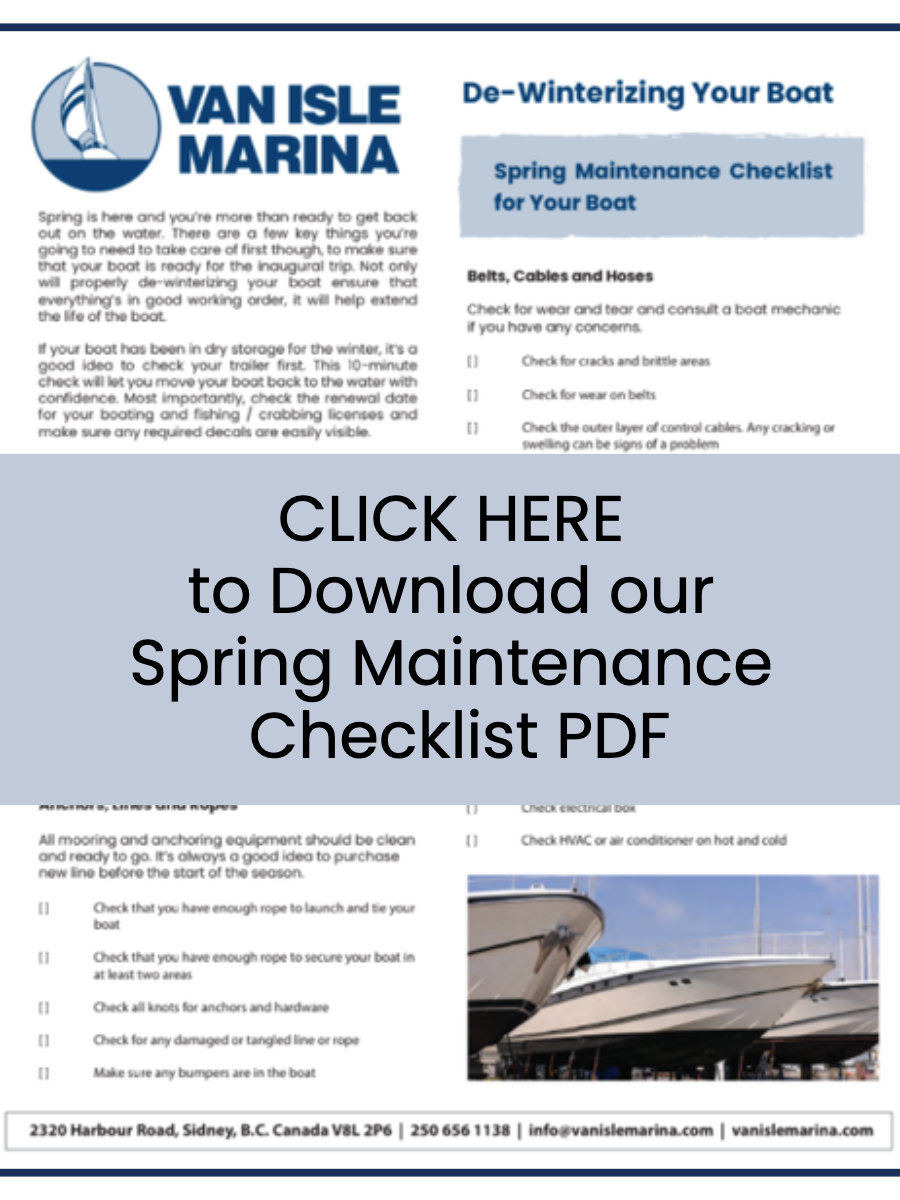 If your boat has been in dry storage for the winter, it's a good idea to check your trailer first. This 10-minute check will let you move your boat back to the water with confidence. Most importantly, check the renewal date for your boating and fishing / crabbing licenses and make sure any required decals are easily visible.
Trailer
To safely transport your boat back to the water, the trailer and tires need to be road-ready.
Check trailer tires for pressure, any cracking, or inadequate tread. Replace tires if they're older than 3-5 years.
Check tongue latch and coupling
Check trailer brake fluid level
Check trailer lights and replace as needed
Test the rollers
Check the padding where the hull rests
Anchors, Lines and Ropes
All mooring and anchoring equipment should be clean and ready to go. It's always a good idea to purchase new line before the start of the season.
Check that you have enough rope to launch and tie your boat
Check that you have enough rope to secure your boat in at least two areas
Check all knots for anchors and hardware
Check for any damaged or tangled line or rope
Make sure any bumpers are in the boat
Belts, Cables and Hoses
Check for wear and tear and consult a boat mechanic if you have any concerns.
Check for cracks and brittle areas
Check for wear on belts
Check the outer layer of control cables. Any cracking or swelling can be signs of a problem
Electrical
As boaters, we rely heavily on electrical equipment for a safe and comfortable experience. Go through each of the electrical components on your boat to make sure everything's in good working order.
Check all connections for corrosion and cleanliness
Remove battery terminals, clean connections with wire brush
Check the battery is charged. Replace if needed
Test the generator on full tilt
Check interior and exterior lights
Check navigational equipment (GPS)
Check electrical box
Check HVAC or air conditioner on hot and cold
Engine and Fuel System
The heart of your boat, you won't get very far without the engine! We recommend a regular inspection by a trained boat technician, ideally at the start and end of the boating season.
Check transom mounts (outboard)
Check for any smoke
Check transmission
Check levers on every seacock
Check raw water intake and strainer
Inspect connections, hoses and tanks for damage or leaks
Replace spark plugs and other components as needed
Check that all clamps and fittings are tight
Check that exhaust, engine and ventilation systems are working well
Fluid Levels
Topped-up fluids will keep your engine and steering column going strong. Replace any expired fluids and top up everything else as needed.
Check coolant
Check engine oil
Check power steering fluid
Check power trim reservoirs
Check coolant levels
Change engine oil, filter and drive lubricants as needed
Hull and Exterior
The key to prolonging the life of your boat, the hull should be kept clean and waxed, with any damage taken care of right away.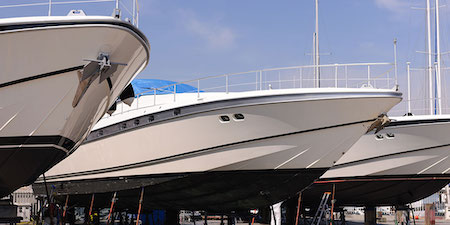 Check hull for blisters, distortions and cracks
Clean the hull, deck and topsides
Check that the drain plug is secure *Put a backup drain plug somewhere safe on board
Check for cracks or damage around fittings
Check for damage on or around the hatches
Check upholstery for any mold / mildew / tears
Check the livewells
Interior
The living space and head are a cozy place to crash at the end of a busy day of fishing and water sports. Take a few minutes to check lighting, appliances and water, to avoid any unpleasant surprises.
Check for water pressure and quality
Check for damage to doors and portholes
Check lights and switches
Check for leaks in fridge
Check temperature in fridge / freezer
Test the appliances
Check lights and switches
Check TV, speakers and any other extras
Propeller
A damaged propeller can't work as efficiently as an undamaged one. If you see any marks or chips / dings that are concerning, talk to a pro about repair or replacement.
Check propellers for any damage
Make sure propeller is secure and replace bearings if needed
Safety Equipment and Gear
Up-to-date safety equipment is a huge part of any vessel. We recommend booking a safety inspection by the Canadian Power and Sail Squadrons (CPS-ECP) if available.
Check the flares
Check marine radio
Check condition of heaving line and lifebuoy(s)
Check condition of first aid kit
Check life jackets and replace any expired jackets
Check the fire extinguishers. Replace if expired
Check carbon monoxide and smoke detectors. Replace batteries
Water System
For washing up and drinking, clean water is essential.
If you added antifreeze, flush it out now
Empty the grey and black tanks
Refill the fresh-water tank
Clean the Boat
Give your boat a good spring clean to get it off to the best possible start this season.
Clean the hull, scrubbing away any rusty spots or fuel drips
Scrub any areas where mold may have started over the winter
Clean the carpets and vacuum any debris
Wash the windows
Disinfect hard and soft surfaces using a gentle spray solution
Spray a fabric protector on any vinyl to block harsh UV light
At Van Isle Marina, we offer moorage with annual, monthly and guest options. Conveniently located in sunny Sidney, BC on the Haro Strait, we're just a quick cruise away from a variety of fantastic destinations. With amenities like storage lockers, car parking, and a full-service marine fueling station and dock store, you'll find everything you could need to start and end your trip. Are you as excited for the summer boating season as we are? Come down and see us, or request services/moorage information by calling (250) 656-1138 or via email.
https://vanislemarina.com/wp-content/uploads/2021/04/De-Winterizing-Your-Boat.png
1080
1080
Van Isle Marina
https://vanislemarina.com/wp-content/uploads/2018/02/logo-web.png
Van Isle Marina
2021-04-27 11:51:46
2021-05-10 14:48:28
De-Winterizing Your Boat Checklist