Boat Maintenance Checklist
Use this Handy Checklist for Boats / Yachts Before Getting Back on the Water
Boat maintenance is a key part of keeping your boat cruising smoothly for optimal enjoyment, safety and resale value. At Van Isle Marina, we know there's a lot to think about when it comes to maintaining your boat. This is why we've created this handy cheat sheet for the care and keeping of your boat.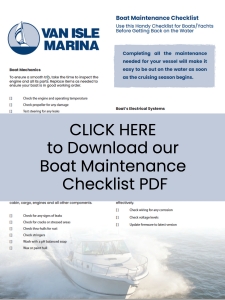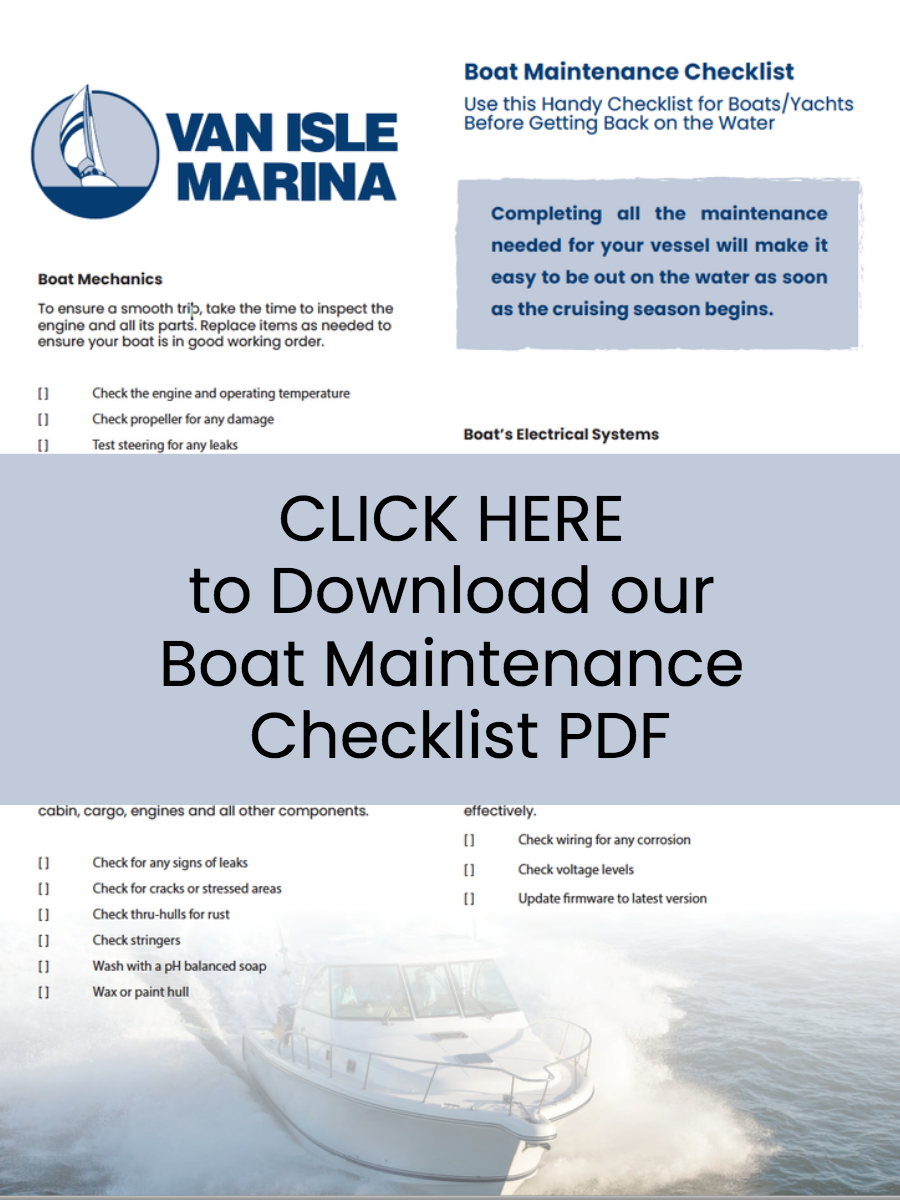 It's a good idea to go through this boat maintenance checklist at the end of the season. This will give you plenty of time to schedule the required boat repairs and maintenance during the low season.
Completing all the maintenance needed for your vessel will make it easy to be out on the water as soon as the cruising season begins.
Boat Mechanics
To ensure a smooth trip, take the time to inspect the engine and all its parts. Replace items as needed to ensure your boat is in good working order.
Check the engine and operating temperature
Check propeller for any damage
Test steering for any leaks
Check transom mount (if using an outboard)
Check fuel lines for weak points or leaks
Do an oil change
Check spark plugs
Check fluid levels
Check gearcase for water
Check belts, cables and hoses
Lubricate fittings (where required)
Boat's Electrical Systems
Because your boat experiences a lot of vibration and hull flex, it's important to properly troubleshoot and maintain electrical components.
Check battery charge level
Check battery connections and cables
Look for any acid leaks around terminals and clean as needed
Replace battery if needed
Check and/or replace interior and exterior lighting and wiring
Hull of the Boat
As the watertight part of the boat, the hull maintains the structural integrity of the boat, protecting the cabin, cargo, engines and all other components.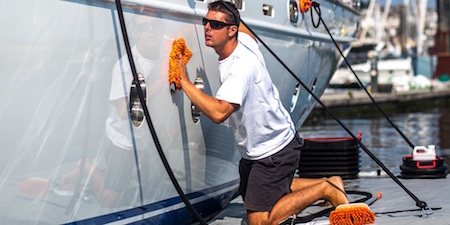 Check for any signs of leaks
Check for cracks or stressed areas
Check thru-hulls for rust
Check stringers
Wash with a pH balanced soap
Wax or paint hull
Boat's Electronics

Not to be confused with electrical systems, the onboard electronics of the boat let you navigate and communicate effectively.
Check wiring for any corrosion
Check voltage levels
Update firmware to latest version
Boat's HVAC System

Ready access to water as well as reliable heating and air conditioning are essential to an enjoyable trip out on your boat.
Check and refill water tank
Check the drain for clogs
Check for condensate in pan under evaporator
Clean air filters and raw water strainer
Reverse cycle the system to make sure heating is available
Check the water pump impeller and condenser coil for any build-up
Upholstery and Canvas on Board

Seasonal maintenance is needed to preserve and extend the life of the on-board upholstery and covers.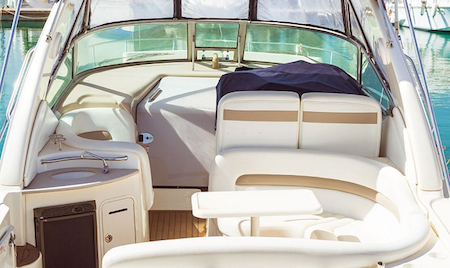 Check for mould and mildew – clean as needed with vinegar solution
Remove and wash canvas
Check for waterproofing – reapply waterproofing spray if needed
Safety Equipment on Board your Boat
Ensure your safety equipment is in good working condition and within the expiry date. Replace anything that has expired or is in poor condition.
Check flare(s)
Check fire extinguisher
Inspect lifejackets for tears or missing parts
Inspect and restock first aid kit
Check flashlight and batteries
Check and refill spare gas can
Check EPIRB (Emergency Positioning Indicating Radio Beacon)
Check tender for damage
Check paddles and outboard motor on tender
Click here to download our boat maintenance checklist as a PDF.
Getting ready to get back out on the water this spring? Come and see us first. At Van Isle Marina, we're a one-stop shop for all your cruising needs, from oils and additives to charts and tackle. We offer a great marine fuel discount program for recreational and commercial vessels. Enjoy full-service assistance with dock lines and fueling from our marine gas station team. We're open 8 :00 AM – 4:00 PM daily (winter) and 8:00 AM – 8:00 PM daily (summer) and we look forward to seeing you in beautiful Sidney, BC. Contact us anytime for a service request for moorage, haul out, dry land storage and more.
https://vanislemarina.com/wp-content/uploads/2021/02/Boat-Maintenance-Checklist.jpeg
1080
1080
Van Isle Marina
https://vanislemarina.com/wp-content/uploads/2018/02/logo-web.png
Van Isle Marina
2021-02-16 12:21:02
2021-02-16 14:53:26
Boat Maintenance Checklist