12 Things to Do on Your Riviera 64 Sports Motor Yacht
The new 64 Sports Motor Yacht Model from Riviera is set to premiere in 2020
At Van Isle Marina, we are extremely excited and looking forward to the launch of the newest yacht from Riviera – the 64 Sports Motor Yacht, debuting in 2020.
The 64 Sports Motor Yacht is the latest addition to Riviera's long range cruising family, featuring the collection's signature spacious cockpit, sporty looks, and sporting performance. The model's incredible hull was designed in partnership with esteemed naval architects, Mulder Design of the Netherlands, who have created some of the world's fastest super yachts, so we have a strong feeling this yacht is going to exceed all expectations.
In addition to your four entertainment areas onboard, including the impressive mezzanine and cockpit, saloon, enclosed flybridge, and foredeck, the 64' gives you the choice of three or four staterooms and the option of an aft crew cabin or extra storage space.
With so many of the luxurious features that Riviera is known for also on board, you and your loved ones will be able to enjoy all of your favourite yachting activities in comfort and class. While the number of things you will be able to do on board your new 64' is virtually limitless, here are our top 12 suggestions.
1. Reel in a Big One
The 64' Sports Motor Yacht from Riviera is an angler's dream with its large self-draining cockpit, eight rod holders on the aft rail, and an enormous amount of storage space for your tackle and daily catches. There are large tackle lockers in the transom, more lockers in the side coaming, and deep fish bins in the floor.
For the more serious fishermen, an optional live bait tank can be plumbed right into the transom in lieu of the standard wet locker.
2. Go for a Swim
Enjoy the large swimming platform off the back of your yacht after dropping anchor near or far from the shoreline. The wide and deep boarding and swimming platform comes with an inbuilt swim ladder, making swimming off the back of your yacht a breeze. Just add some floaties and you're good to go!
Remember to always keep an eye on the children onboard, wear waterproof sunscreen, and encourage wearing life jackets.
3. Prepare Home-cooked Meals
Whether it's in your thoughtfully laid-out gourmet galley, or outdoors grilling up the catch of the day in the BBQ centre, cooking onboard the 64' Sports Motor Yacht will be just like cooking at home, or better!
Cook up a huge feast for all your guests in your C-shaped kitchen equipped with a full-height refrigerator with two freezer drawers, a three-burner electric cooktop, twin sinks, dishwasher, and microwave convection oven.
The triangular working area is so efficiently set up on this model and the nearby saloon means plenty of room for you to socialize with guests while preparing the dinner.
4. Day Trip the Beach
While cruising up and down the coastlines, why not head back to shore for a few hours? Doing so is easy using your 3.6-metre tender with 50hp jet. Simply launch it via a low-profile davit from your foredeck.
Stuck on where to go? From Van Isle Marina in Sidney, BC – where you will be acquainted with your new yacht as soon as she arrives from Australia – head north to any of our favourite boat-only destinations on and around Vancouver Island.
From any of our spectacular beaches, you can go for a hike, do some birdwatching, and simply appreciate the beautiful nature all around you.
5. Watersports
The 64' Sports Motor Yacht is designed for the ultimate mix of watersports by delivering a ton of storage space for your water toys, including your stand-up paddleboards, kayaks, and snorkelling and diving equipment.
6. Whale Watching
Watch for whales from practically anywhere on your yacht, but especially the foredeck, where there is a large lounge area and ample leg room for all. Don't forget the binoculars and a camera to take photos or videos!
7. Cool Off
Life on a yacht typically means a lot of time spent outdoors. After eating breakfast, followed by hours in the sun, at the end of the day you're likely to want a place to cool off.
Not to worry, the 64' allows plenty of shelter from the sun, while still allowing you to view the outdoors with the one-way-vision glass panels extending from the cabin superstructure.
Additionally, the mezzanine can be enclosed and the air-conditioning cranked for maximum cooling comfort when you're craving the cold. You can find similar relief in any of the staterooms.
8. Cocktail Party
Turn your cockpit into a cocktail party easily enough with the nearby wet bar that includes a 190-litre refrigerator, 100-litre icebox, and sink.
An adjacent BBQ centre with twin barbecue plates and fibreglass benchtop ensure there's enough space to prepare appetizers to go with the cocktails. The conversation will soon be flowing around the folding feature teak  table.
If it's wine you would rather, choose something from your 27-bottle wine fridge within your galley – where there is also a glass storage area.
9. Host a Child's Birthday Party
Be the coolest mom, dad, or grandparent around by hosting your child or grandchild's birthday party on board your yacht this year. We believe it will be one of the most memorable parties they've ever had!
After an afternoon of fun in the sun, there's plenty enough room to keep everyone together for games and snacks with the galley, foredeck, or mezzanine. You'll be able to keep an eye on everyone from the saloon. For supervising the littles ones, there is plush seating for four or five guests on the port side of the saloon, along with three director's chairs and more seating at the starboard-side dinette.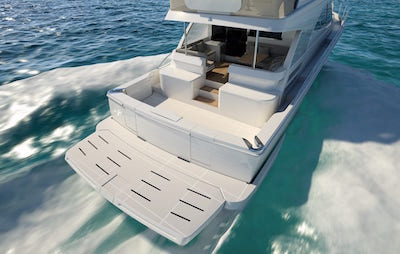 10. Retreat to Relaxation
After a long day enjoying the water, head up to the enclosed flybridge to your first-class lounge where you can sit back, relax, and marvel at the beauty of the Pacific Northwest coastlines all around you. When you're ready to tune-out completely, you can do so with your favourite show or sports team on the flybridge's large flat screen TV – which is just one of a few TVs onboard.
11. Go Bluewater Cruising
The Riviera 64' Sports Motor Yacht is designed for some serious bluewater cruising, with a massive 22.5kW genset, 6500-litre fuel tank capacity, and standard twin MAN V8 1300hp (970 kW) diesels.
And did we say storage? On top of the storage mentioned in the cockpit, the staterooms offer 9 storage areas in total, while the foredeck offers heaps more storage space so you'll be able to store everything you need for weeks and months out on the open water.
For safety's sake, take comfort in the model's life raft and safety cell, which are housed at the rear of the bridge.
12. Do Your Laundry & Sleep Soundly
If you'll be yachting for extended periods – just what the 64' Sports Motor Yacht is designed for – you'll appreciate the model's large laundry closet with separate washer and dryer.
Exhausted from a day outdoors, when you retire for the evening, you'll find the accommodations onboard the 64' to be spacious, luxurious, and comfortable. You'll feel so well rested after being lulled to sleep in your full-beam master stateroom complete with a central king-sized bed with plush headboard.
You'll also appreciate the comfort of the room's lush carpet, elegant LED lighting overhead, bedside tables, 40-inch LED TV, and large hull picture windows. Your guests are also sure to sleep well in their VIP guest stateroom with a queen-sized bed or the additional guest stateroom with two adult-sized single beds.
To learn more about this exciting new model, contact our yacht brokers at 250.656.1138.
Read More:
More Information on the Riviera Sports Motor Yacht Collection
With the addition of the 64' coming in 2020, the Riviera Sports Motor Yacht Line is now up to four models. The new 64' fits nicely in between the 68 Sports Motor Yacht, which debuted in 2017, and the 72 Sports Motor Yacht, which debuted in 2018, giving new owners a more mid-size option.
So why add to the line? Riviera saw plenty of success with its earlier Sports Motor Yacht models, and the 64' is already garnering plenty of interest worldwide.
"The Sports Motor Yacht philosophy has been well embraced the world over, with over 20 yachts purchased by owners in Europe, the Americas, New Zealand and Australia over the past 18 months," stated Rodney Longhurst, Riviera Australia owner, in a press release. "Our highly experienced international design team has risen to the challenge of optimizing the onboard space, ensuring the yacht offers beauty, amenity and functionality," he adds.
As with all Riviera models, this newest addition also has a glass cockpit, touchscreen displays, fingertip joystick control, electric steering, and state of the art electronic and engine systems. You won't believe how incredibly fun and easy to operate Riviera Sports Motor Yachts can be!
Additional Riviera Collections
In addition to the Sports Motor Yacht collection, Riviera offers models in the Open and Enclosed Flybridge Collections, the Sports Yacht Collection, and the SUV Collection. As Western Canada's exclusive authorized dealer of Riviera Australia's luxury motor yachts, Van Isle Marina's yacht brokers would be pleased to match you with the best Riviera yacht to suit your needs.
Find more information on each of Riviera yachts on our website, or contact one of our Yacht Sales Brokers, at 250.656.1138. You can also come to Sidney, BC to see us in person. We look forward to showing you our boats!
https://vanislemarina.com/wp-content/uploads/2019/08/Main-Picture-RIVIERA-64-SPORTS-MOTOR-YACHT.png
1080
1080
Van Isle Marina
https://vanislemarina.com/wp-content/uploads/2018/02/logo-web.png
Van Isle Marina
2019-08-19 11:29:12
2023-08-08 11:45:59
12 Things to Do on Your Riviera 64 Sports Motor Yacht