Is Riviera the Apple of Boat Builders?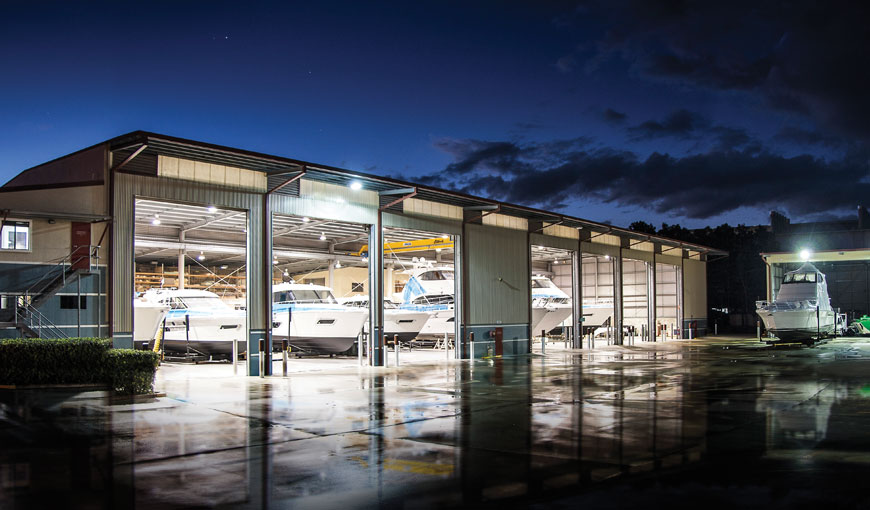 Ocean Magazine's Nigel Bowen recently toured Riviera's world-class manufacturing facility in Coomera, Australia to gain an insight into how the Riviera team is working towards their goal of building flawless boats. Please enjoy the article below from www.oceanmagazine.com.au.
The Apple of Boatbuilders
It wasn't that long ago that Australia's largest and most acclaimed builder of luxury motor yachts was in receivership. But since Rodney Longhurst took the helm in March 2012, the company has been revitalised. Something you'd soon notice if you paid a visit to its headquarters.
Text Nigel Bowen
Long before you booked your flight to the Gold Coast you've perhaps been thinking of the purchase of a new Riviera motor yacht. Most likely you've heard many a satisfied customer sing their praises. Perhaps you've wandered along Australian marinas and noted that one brand seems to be disproportionately well represented. Possibly you've seen their creations everywhere from Dubai to Fort Lauderdale to the south of France and wondered just exactly what it is that led people to ignore the local offerings and go to the trouble and expense of shipping a Riviera motor yacht halfway across the world.
You've been online too, pieced together a timeframe and learnt that the company got its modest start three-and-a-half decades ago in the Sydney suburb of Terry Hills. You've learnt that shortly after commencement of operations, they relocated to southeast Queensland and ultimately to a thriving waterfront marine industry precinct at Coomera on the Gold Coast, where they are based today. You'll also have learnt that the company has for the past 35 years, built a hard-earned reputation for producing well-constructed vessels and that they have launched nearly 5,200 boats. Along this journey Riviera has won every imaginable award in the process, including most recently, the 2015 Australian Marine Industry Exporter of the Year.
You haven't reached the position where you can invest anywhere from $550,000 to over $5 million on a new Riviera from being swayed simply by marketing promotion. Possibly you may be swayed by the opinions of others. But it isn't until you experience the Riviera culture and see their facility for yourself that you'll make a final decision.
A strong senior team at Riviera are pushing the company forward in leaps and bounds.
A Riviera representative is waiting at the airport. He's friendly in a down to earth way and seems to be able to answer every question you throw at him, no matter how obscure. Chances are he'll soon get around to talking about the tumultuous events of recent years. How the company, at its peak, was employing 1,200 people and producing an impressive 420 boats a year. How the business was severely wounded by the GFC and how in 2009, the receivers were called in and cut staff numbers to the bone and forced to pare back investment in innovation.
As you near your destination, you'll drive past a collection of Gold Coast amusement parks. Your companion might mention that John Longhurst built one of them; Dreamworld, Australia's answer to Disneyland, along with his young family, a family that includes John's son Rodney, a qualified carpenter and joiner. A grounded tradesman who branched into property development and tourism before buying a marine service yard in Coomera in 2000 and then seizing the Riviera opportunity in 2012. Unprompted, the Riviera employee will then start singing the praises of his boss. He'll detail a turnaround that sounds like an Antipodean maritime version of what happened when Steve Jobs returned to Apple. You'll hear about the new owner's obsession with customer satisfaction and his perfectionist approach to new model development. His commitment to empowering employees is entirely based around instilling a sense of ownership and pride in their work. At this point, you might recall the company's mission statement – "To be a world leader in the marine industry through creating the ultimate pleasure boating experience" – and begin to ponder if this could be more than the usual corporate posturing.

Riviera boats are entirely manufactured at the Riviera facility in Coomera, Queensland.
THE GRAND TOUR
By the time you arrive to see where Rivieras are created, you're beginning to hum with pleasurable anticipation. The first thing that hits you is just how big the place is. There's a collection of hangar-like structures where the boats are built by a veritable army of tradesmen. (Actually, there are 480 employees and contractors on site). The company is currently on a major recruitment drive for qualified staff and is investing heavily in training apprentices. Any cynical thoughts you may have harboured about motor yacht builders being one of those luxury goods makers who apply a generous margin on a cheaply produced product will quickly disappear. In fact, you'll wonder how the business manages to cover materials and labour costs. Such is the scale and infrastructure employed.
For the next hour or two, a new guide will shepherd you around the facilities. You'll see tradespeople shaping hulls; spraying fibreglass; varnishing timber; constructing cabinets; running wiring looms; and installing engines. And you'll see them fitting technology that you weren't even aware existed from the likes of major international brands such as Volvo Penta, Caterpillar, MAN and Cummins. You'll see how Riviera does things differently to other boatbuilders. To take just the most visible example, rather than being built on the one spot, boats are constructed in sections and moved from one building to another on giant low-level trolleys, conveyor-belt style.
You'll be informed of proven Japanese management and manufacturing practices and systems that have been embraced to enhance quality and minimise waste.
You'll hear that factory staff meetings are held daily, and everyone from a first-year apprentice up is encouraged to volunteer suggestions on how processes can be improved. One of the craftsmen you stop to have a chat with along the way might mention the boss's 'zero warranty' goal. That is, how Longhurst wants zero issues as a result of flawless boats being delivered to customers. Boats that not only meet, but exceed, customer expectations. With a mix of amazement and wry amusement that craftsman might then candidly comment on just how hands-on the boss is.
You will marvel at just how engaged in their work Riviera's employees and contractors are. You will wonder, with not a little envy if you're an employer yourself, why they all seem so motivated. But you won't have to remain unenlightened for long. You're about to walk over to the on-site waterfront restaurant called the Riviera Motor Yacht Club and chat with the boss and his second-in-charge over lunch.

The impressive, and very extensive Riviera facility where boats are moved from one specialist building to the next through the various stages of construction.
LUNCHING WITH THE GREAT HELMSMAN
By this stage, you're not surprised to find Riviera's owner and chairman is a little like Steve Jobs. Longhurst hasn't got the black skivvy or beard but he's tall, thin and unblinkingly intense. The Tim Cook to Longhurst's Steve Jobs is Riviera CEO Wes Moxey. His knockabout Aussie bloke demeanour belies his many achievements, which include a long history of senior roles at Riviera, as well as developing the Belize line of motor yachts.
It soon becomes apparent Longhurst has a sincere and burning drive to make the best luxury motor yachts in the world. It's a point he frequently circles back to in conversation. Noting that half the boats Riviera builds are exported to some 60 different countries he'll tell you, "I want a workforce that arrives here everyday proud of what they do and the company they work for. Each of our team members here are no different from an athlete attending the Olympics. They are producing extraordinary work that finds its way around the world to be judged against the best in the world. For a country with a population of 23 million, Australia competes well in international sport. There's no reason why Australia can't do that in manufacturing and especially in the marine industry. Riviera is doing this now."
Press him on how he's managed to turn Riviera around and he'll insist it all comes down to the people and engineering an empowered workplace culture.

Riviera chairman and owner Rodney Longhurst has revived the company post-GFC and reinstated it as an iconic Australian boatbuilding manufacturer.
"There was considerable opportunity to come in three years ago and revitalise the culture that had allowed the brand to grow and succeed for the past 32 years. There were a lot of great people here who didn't know what the future held. And there were a lot of great people, such as Wes, who'd left around the time of the GFC but were able to be brought back to instill a new sense of direction and to recommence the process of new model development," he says. "The goal was always to create magical experiences for our customers. Everyday we work on making the boats more user-friendly and luxurious; making the events we host better; making the customer service we provide more helpful. We really listen to our customers and dealers and are actively refining what we do every day. Plenty of our competitors talk the talk when it comes to these aspects. But I don't think many of them are as authentic and passionate about them as we are. I don't view these things as some sort of selling tool, they're the ethos of what we do here every day."
Moxey, Longhurst's longtime friend and occasional business partner, sings from the same song sheet.
"When Rodney appointed me as CEO in 2012 he didn't ask me to focus on growth or revenue. He challenged me to demonstrate to the market that Riviera was again investing in innovation. We soon did that by developing something the marine industry hadn't seen before, the SUV (a crossover vessel combining the blue-water, high-performance abilities of a Riviera Flybridge, with the single level, entertaining features of a Riviera Sport Yacht). We exhibited our first SUV model at the 2012 Sydney Boat Show just months after Rodney had purchased the business. It demonstrated that we'd come back with a strong resolve and that we were prepared to go hard and invest in innovation," says Moxey.

Having manufactured boats for more than three decades, Riviera boats are world class.
Catch him in an expansive mood and Moxey, a shipwright by trade who's been at Riviera on and off since 1982, will even pass on part of the secret of the company's global success.
"We take aspects of European styling, American proportion and Australian practicality and meld these together in a truly unique manner to create a Riviera. While our styling is influenced more out of the European stable, the Europeans are not always practical. Ferraris are beautiful but they may not be a car you want to drive in everyday conditions.
"From the Americans, we take proportion and volume. Large and tall Americans can find a European or Asian boat too restrictive and uncomfortable. The beds perhaps aren't long or wide enough; or they can't stand up straight in the shower.
"The Australian practicality is born out of features being functional rather than simply stylish. Building boats to suit a variety of often challenging ocean and weather conditions is another aspect of practicality. In Europe, boat owners want to make the most of the sun because of their short season. However in counties such as Australia or Dubai, they actively seek protection from the sun. So Riviera is big on design features like skylights and sunroofs that allow our owners to control how much sun they want as much as being true bluewater yachts."

Riviera is once again investing in innovation with its New Product Development team.
THE TEAM BEHIND THE TEAM
Depending on your interest level and the duration of you're intended visit – some buyers fly in from overseas and are educated and cared for by Riviera staff for often multiple days – you may get to meet some of the key players at the coalface. This could be electrical manager Greig Payne. He'll explain that Riviera was the first boatbuilder in Australia and one of the first in the world to install CZone – that's a digital control and monitoring system. It allows owners to control all the electrical systems on their boat via a touch-screen control panel, or even a tablet, rather than having to navigate an endless array of circuit breakers. Given the chance, Payne will explain how Riviera, in partnership with its suppliers, aims to have a first-mover advantage in adapting proven technology designed for cars or homes to boats. He may even talk you through some of his team's recent handiwork. Such as creating a remote monitoring and operating system for one client who wanted his boat to function like his Tesla. That client can now turn on air-conditioning, refrigeration and lights in his boat before he drives to the marina, or activate its security cameras and check its battery levels via his phone while he's half a world away.
You might also run into design and engineering manager, Dan Henderson. He'll alert you to the thousands of man-hours that go into designing a new model. He'll tell you that while most boatbuilders either just use 3D CAD or make a mock-up, Riviera, with its characteristic obsessiveness, does both.

It all comes down to the people and engineering an empowered workplace culture.
"Doing things that way takes all the guesswork out. It allows you to look at all possible options. It means you can get the brains trust in the room to look at every aspect of the design and aesthetic before you build a boat," he'll say. "Given his trade background, Rodney's got a great eye for design. He'll get us to do things over and over again until everything is a good as it can be. The design process takes a minimum of six months and can take up to two years depending upon the size of the new model." Grieg and Dan are just two members of a team that comprises a dozen or so managers who are each specialists in their fields, and when combined, offer hundreds of years of knowledge, experience and skill.
Others you might meet such as Scott Cumming, Riviera general manager, will talk about the quality control processes that follow every yacht as it moves from one stage of production to the next across the 14-hectare site. Brad Wiegel, production manager, will go to great lengths talking about grain and colour matching over 3,000 individual pieces of timber that can make up the interior of a Riviera yacht. Dean Cliff, Riviera's business improvement manager will enthusiastically tell you about the real value of teamwork and the significant advances in efficiencies and quality being made at Riviera. In all these discussions with team members, one common thread emerges repeatedly, albeit articulated in many different ways given their respective disciplines – they all share a burning passion and drive to be the best in the world.
SAILING INTO THE SUNSET
Sadly, sooner or later you'll need to leave the boating Field of Dreams that is the Riviera facility and return to the real world. Maybe by this point you've signed on the dotted line, maybe you haven't. But at the very least, you've happily spent time learning and being inspired by how a world-leading boatbuilder operates. At the same time you have enjoyed an insight into the cutting-edge marine technology that's destined to become standard throughout the industry in the years to come..
https://vanislemarina.com/wp-content/uploads/2018/02/logo-web.png
0
0
Van Isle Marina
https://vanislemarina.com/wp-content/uploads/2018/02/logo-web.png
Van Isle Marina
2015-11-19 09:24:50
2015-12-08 15:06:38
Is Riviera the Apple of Boat Builders?