South Island Hiking Trails
Top 10 Hiking Destinations on Southern Vancouver Island
From North to South, Vancouver Island is covered in beautiful, well-maintained hiking trails for all skill levels. Below is a list of Van Isle Marina staff's favourite hiking destinations on the Southern part of Vancouver Island – because sometimes you just need to get off the boat, go for a drive, and stretch your sea legs.
Galloping Goose Trail
The Galloping Goose is a multi-use, 55-km trail connecting Victoria and Sooke. A former railroad line, this trail is popular with dog-walking locals, commuting cyclists, and outdoor enthusiasts from all around. Depending on your access point, you'll pass tons of wilderness, waterways, rural farmland, and urban pathways.
See how to get to the Galloping Goose Trail 
Thetis Lake Regional Park
Accessible via the Galloping Goose Trail, Thetis Lake Regional Park offers panoramic views of the lakes and surrounding hills, beaches, picnic spots, old growth trees, wild flowers, and hiking trails ranging from easy to expert. While there are plenty of trails allowing you to create your own route, you can also do the simple hike around the lake in 5 km. Expect tons of locals out for exercise on this trail.
See how to get to Thetis Lake Regional Park
Mount Work Regional Park
At Mount Work Regional Park near Langford, enjoy three lakes, Dorrence, Fork, and Pease, and then consider hiking the Summit. The Mount Work summit trail is a steep 4.5 km hike more suitable for experienced hikers. Trail markers will help show you the way up what is at first a mossy, lush forest then a rockier viewpoint. An accessible loop trail is available at the Munn Road entrance.
See how to get to Mount Work Regional Park 
Goldstream Provincial Park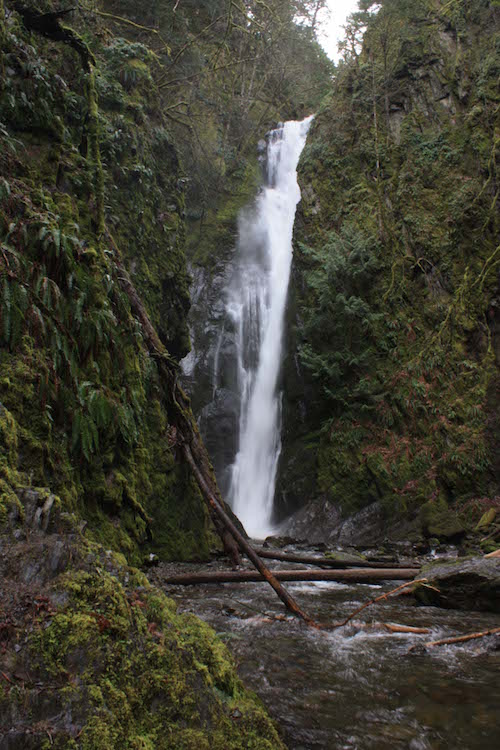 Goldstream Park is a must-see if you're visiting south Vancouver Island and are looking for a massive park with plenty of amenities. Although it's inland quite far, Goldstream has easy, wheelchair accessible trails, or more strenuous hikes. Some to check out are Arbutus Ridge, Arbutus Loop, Gold Mine, Prospector's, and Lower or Upper Goldstream. At Goldstream Provincial Park, you'll be surrounded by tall trees and close to waterfalls, a meandering river, a trestle bridge, a salmon run, an eagle centre, campsites, and much more. There's even a gift shop and Visitor's Center.
See how to get to Goldstream National Park 
Mount Finlayson Hiking Trail
The Mount Finlayson Hiking Trail is a steep 4 km hike located in Goldstream Provincial Park offering scenic Olympic Mountain and Saanich Inlet views towards the Langford area. Many locals flock to this trail, especially on the weekends, so plan accordingly.
See how to get to Mount Finlayson Hiking Trail 
Gowlland Tod Provincial Park
At Gowlland Tod Provincial Park you'll find more than 25 km of hiking trails, including the Tod Inlet Trail, the Cascade Trail, the hike to Jocelyn Hill, and the McKenzie Bight Trail all among protected areas rich in biodiversity. This park covers almost the entire east side of Saanich Inlet, from Goldstream to Brentwood Bay and Butchart Gardens. The Cascade Trail is steep but includes the Cascade Falls, while the McKenzie Bight Trail includes a scenic beach area, and Tod Inlet will take you to see evidence of early-day pioneer settlements.
See how to get to Gowlland Tod Provincial Park
Coast Trail
The Coast Trail near Sooke that runs alongside the rocky shoreline of the Juan de Fuca Strait offers impressive ocean and mountain views mixed with forested trails. You'll also pass the Coast Salish First Nations petroglyphs at Alldridge Point. Head out to complete the entire Coast Trail in about eight hours one-way or choose the smaller portion of the trail at the south end of the park.
See how to get to the Coast Trail 
John Dean Provincial Park
John Dean Provincial Park is on top of Mount Newton near the town of Sidney on the east coast of Vancouver Island overlooking the Saanich Peninsula, the Gulf Islands and the Cascade Mountains. Expect to find hiking trails for all skill levels here. You'll also be among wildflowers, old-growth Douglas firs and Garry oaks, amazing sunset views, and flocks of wildlife at this day-use park.
See how to get to John Dean Provincial Park 
Juan de Fuca Provincial Park
No round-up of hiking trails on south Vancouver Island would be complete without a mention of Juan de Fuca Provincial Park on the Island's west c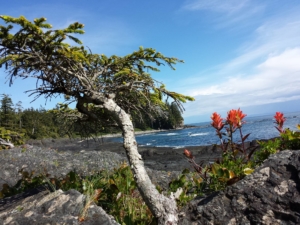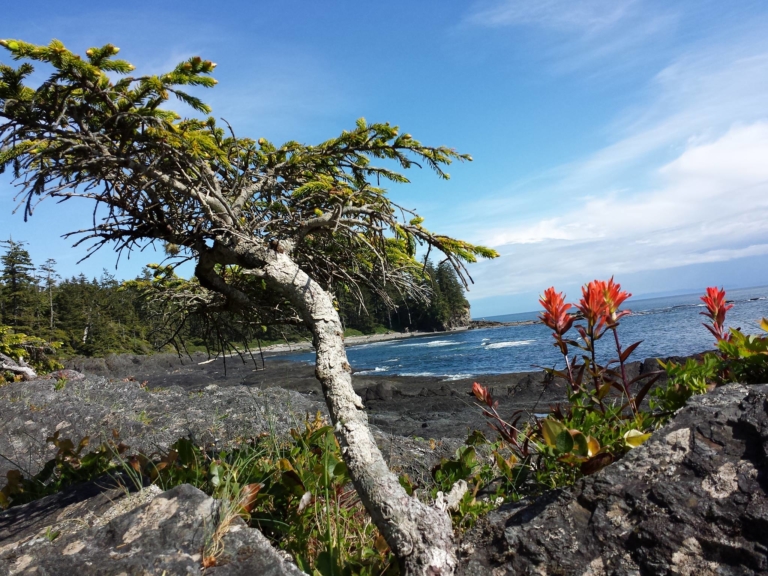 oast. Easily accessible by boat, this massive park features four main areas: the 47-km Juan de Fuca Marine Trail, the China Beach day-use area, the China Beach Campground, and Botanical Beach. Along with natural wildlife and stunning views, this park features old growth forests, waterfalls, grottos,
tide pools, estuaries, and stunning rock formations. Multiple trailheads provide something for all skill levels. We recommend checking the provincial government's website for service notices before heading out:
See how to get to Juan de Fuca Provincial Park
Avatar Grove
The route to reach this hiking trail just north of Port Renfrew on Gordon River Main logging road has some twists and turns but it is worth it if you're looking for something a little less populated than the hikes mentioned above. Home to massive old growth Douglas Firs and Canada's "gnarliest" tree, Avatar Grove is a lesser-known destination hike on the Island.
See how to get to Avatar Grove  
No matter what type of hike you choose on Vancouver Island, make sure you pack the essentials (water, snacks and safety provisions!) and wear layered clothing and shoes suitable for the Island's often wet, unpredictable weather.
Looking for hikes on other Gulf Islands? We've got you covered! Check out our post on our Top 5 Recommended Hikes on the Gulf Islands 
The above trails are just some of the fantastic hiking trails South Vancouver Island has to offer. We also have plenty of hiking recommendations for places only accessible by boat. Stay tuned to our blog or follow Van Isle Marina on Facebook or Twitter.
https://vanislemarina.com/wp-content/uploads/2019/02/top-10-hiking-destinations-on-south-vancouver-island.jpg-copy.jpg
1080
1080
Van Isle Marina
https://vanislemarina.com/wp-content/uploads/2018/02/logo-web.png
Van Isle Marina
2019-02-26 08:49:55
2020-03-10 10:31:30
South Island Hiking Trails